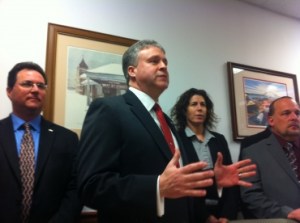 BAYONNE – The campaign of Bayonne Police Capt. Jimmy Davis claims to have video proof that operatives of the campaign of incumbent Mayor Mark Smith directed the organized destruction of Davis campaign signs on the eve of Bayonne's Saint Patrick's Day parade.
The Davis campaign sent an email to PolitickerNJ.com which included a link to what they claim is video surveillance of an area on the 900 block of Avenue C shortly after 1 a.m. on Sunday, March 23, the day of the parade.
"The Davis campaign estimates over 200 signs were damaged, removed, defaced, or cut with box cutters the morning of the Bayonne St. Patrick's Parade," the email, dated March 24, reads. "We have attached the video surveillance of Mayor Mark Smith's operatives.
"Mayor Mark Smith['s] operatives decided on a pre-Saint Patrick's parade attempt to eliminate the surging Jimmy Davis campaign," the email adds.
The Davis campaign email also states that the campaign filed a local police report, alleging criminal mischief.
"Mayor Smith and his team are running on a real record of accomplishment. They've reduced the debt over 40%, streamlined local government and just last week introduced a budget that has a zero municipal tax increase. We don't need to make up issues," said Michael Makarski, Mayor Smith's campaign spokesman. "These allegations are completely false."