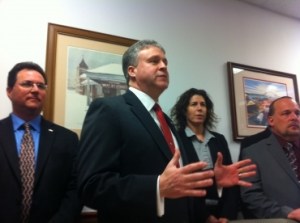 BAYONNE — A Bayonne organization that supports rent control in the Peninsula City has endorsed Jimmy Davis in the May mayoral election, claiming that the administration of incumbent Mayor Mark Smith has consistently frustrated their efforts.
The Bayonne Tenants Organization (BTO) submitted a petition with close to two thousand signatures which would have placed the issue of rent control in Bayonne on the ballot for the May 13, 2014 municipal election. However, word was received from the office of the City Clerk that the issue will not be placed on the ballot until the November election, according to a written statement from the organization.
A letter to the BTO dated March 11 indicated that additional signatures of registered voters were required for submission to the city by March 21. An additional 274 signatures were collected and submitted to the clerk, but the BTO was informed of the decision by the city not to place the issue on the May ballot, the organization claims.
A request has been submitted to the city for a special meeting of the city council in order to override this decision, the BTO stated.
"We have worked extremely hard over the years to keep this issue non-political since the first submission of a petition by a loosely formed group of citizens in February 2012," said Ed Gilligan, the BTO chair, explaining his organization's support of Davis and his slate. "Rent control laws have covered over 6,000 residents of the city for nearly 40 years. This is a city-wide issue that must be addressed."
"Rent control is one of the ways that we can keep the city affordable for our seniors and residents," added Davis.
"Mayor Smith believes the public should be heard on this issue. However, the City Clerk has determined that the petitioners did not meet the basic legal requirements to get the measure on the May ballot – that fact is very clear," responded Michael Makarski, Mayor Smith's campaign spokesman. "At this time, there is no action that could be taken by the city council to circumvent the law to change that fact."