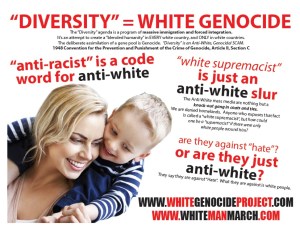 If you are looking for something to do in New York this weekend where the values aren't totally off-base and there is absolutely no chance of anything going wrong, do we have the event for you.
Wait, no. The opposite of that.
The White Man March is apparently really happening on March 15. Kyle Hunt, the organizer of the event, wrote extensively about the event on its F.A.Q. page, which would probably be better served as the Q.N.A.E.B.Y page (Questions Never Asked Ever By Anyone).
In regards to what the event is "all about."
"We are planning to show that White people are organized and impassioned, that we know what the anti-white agenda is all about, and that we are dedicated to waking up as many of our folk as possible. We will make it clear that we will not sit idly by as our race is discriminated against, mocked, displaced, and violently attacked, all of which amount to white genocide, according to the United Nation's own definition of genocide. This is why one of our big messages, which will be displayed on many large banners, is "DIVERSITY" = WHITE GENOCIDE."
Try as we might, we could not actually find an exact location for the event on its website, not even in the posts tagged "inspirtation."
Oh, and anyone who is all ready to send in their RSVP's (wouldn't want to be rude), it is important to know the dress code. "It should almost look like you are a groomsman at a wedding," the site reads. "Or maybe like an avenging Aryan angel."
Well, that certainly clears things up.