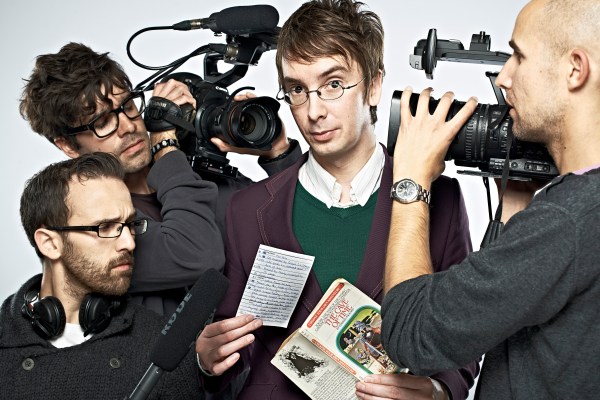 Who needs South by Southwest when you can just stay in New York? The Tribeca Film Festival (TIFF), in its 13th year, is continuing its march toward becoming one of the most futuristic, forward-thinking events in the industry, with a beefed-up transmedia and technology lineup. The festival, which starts April 16, has balanced its run of celebrity-studded narratives and award-winning docs with technology-focused "films" that emphasis audience interaction, music and immersive experiences.

If you didn't think New York could be as hip as Austin, just take a look at the opener: a premiere screening of a Nas documentary, Time Is Illmatic, which explores the rapper's seminal album 20 years after it was released. The Queens-born artist is expected to perform the album after the screening. In foregrounding music documentaries, TIFF seems to have found a successful formula. This will be the second year that it has opened with one: Last year, the band The National took to the stage for a live show after the festival premiered Mistaken For Strangers, a film about about lead singer Matt Berninger and his younger brother, Tom. Illmatic is just one of several documentaries this year that focus on musicians. Also on the lineup is Super Duper Alice Cooper, Keep On Keepin' On, about 89-year-old jazz legend Clark Terry, and a documentary about the Grateful Dead's co-founder Bob Weir called The Other One.
Tribeca has also teamed up with digital media company Interlude for a music film challenge for Tribeca Interactive: Using the Treehouse app, competitors can create interactive music "films" for three tracks—"Heavy Seas of Love" by Damon Albarn, "Ticking Bomb" by Aloe Blacc or "Dead in the Water" by Ellie Goulding—and submit their entries online. The winning creators will receive $10,000 each and a trip to attend TIFF, and their video will be shown at the festival.
And for the hackers among us, there is Tribeca Innovation Week, a new program that overlaps with the second half of TIFF, April 21-26. Sponsored by AT&T, Innovation Week, which will be open to ticketed patrons, is being billed as an event to attract "coders, screenwriters, hackers, futurists, gamers, directors, engineers, venture capitalists, film financiers, techno radicals, the generally curious and anyone who has a story to tell." Director Aaron Sorkin will be kicking off the inaugural talk, which is just as well—David Fincher and the House of Cards people, despite having a more digitally progressive platform than The Newsroom, would have been a bad fit, considering how they portrayed the telecommunication company co-sponsor as a metadata goldmine vulnerable to savvy hackers.
"The arts are very scared of algorithms and hardware," said Ingrid Kopp, the director of digital initiatives at the nonprofit Tribeca Film Institute. "That's something we're trying to change, to foster dialogue between the tech and artistic communities." TIFF is also co-sponsoring Tribeca Hacks, a four-day hackathon that will teach storytellers how to design working interactive art. And Games for Change, New York's largest gaming event, will also be hosting its 11th annual event, which focuses on the social impact of the culture, as part of TIFF. It runs April 22-26 at the NYU Skirball Center for the Performing Arts. And in case we aren't sick of this term yet, the Fifth Annual Tribeca Disruptive Innovation Awards will be open to the paying public for the first time this year.
Also back on the Tribeca slate is Storyscapes, a space for transmedia performance sponsored by Bombay Sapphire Gin, which opened last year with five interactive projects. "We define 'film' pretty loosely," said Ms. Kopp. "We're always trying to push the idea of storytelling and look at how we engage with art." Though last year Storyscapes had a whimsical element—robotic seals and a massive, crowd-sourced project about insomnia—at least one of the installations this year is no laughing matter. In Nonny de la Peña's Use of Force Protocol, audiences will be able to experience what it was like to be on the scene during the tasing and beating of migrant worker Anastasio Hernandez Rojas, who died in 2010 at the hands of U.S. border agents. Ms. de la Peña calls her work "immersive journalism," using 3-D software and headgear to recreate violent crimes and create stories with nonlinear narratives or differing viewpoints. Only one participant at a time will be able to "play" Use of Force Protocol, because it involves putting on a virtual reality headset that takes up your field of vision and requires you to walk around the room. A guide will help users navigate the virtual landscape.
This might not be what most people think of when they imagine the future of gaming, but Ms. Kopp is confident in Ms. de la Peña's vision.
"It's not a fun game; it's not easy to experience," she told the Observer. "It's incredibly visceral. They say that the camera is an empathy machine, that it puts you there; it makes you think a little bit about how you respond to things, and that may not be that comfortable for some people."
There will be some levity among the serious projects, including a Choose Your Own Documentary performance by Nathan Penlington. Other pieces of multimedia include Circa 1948, a historical reality app with a "loosely suggested mystery plot" about Vancouver urban renewal by Stan Douglas and On a Human Scale by Matthew Carey, in which a SIMS-like community is controlled by a 88-bit piano.
[youtube http://www.youtube.com/watch?v=NKFrZTuKQo8&w=560&h=315]
One of the challenges of Storyscapes and transmedia showcases in general is determining how long to leave people in their holodeck experience. "The question for a lot of these projects is how do you bring people in, how do you bring people out?" Ms. Kopp said. "With a film, you have a beginning, an end and then afterward a Q&A. With these projects, we're responding to work that doesn't necessarily have a time frame—that you have body engagement with, that plays with a lot of different ideas of what it means to be interactive."
Ms. Kopp hopes that Storyscapes will help bridge the gap between the creatives and the techies. While the subjects of Clouds appear to be people talking against a black backdrop, their figures are actually comprised of computational matter—a mosaic of animated code.
But it's not only the technology of Storyscapes that will be reflecting a changing world. Two of the featured documentaries, 1971 and Silenced, focus on whistle-blowing, one of the more relevant issues of this year. The former refers to the year when a guerrilla group called the Citizens Commission to Investigate the FBI broke into national headquarters and shared their findings about the illegal government surveillance program Cointelpro with the world. The latter is Academy Award nominee James Spione's film about high-profile whistle-blowers. Programming director Genna Terranova called the inclusion of both films a "coincidence."
"Though you have to wonder when you have seen coincidence like this," she told the Observer. "There is a reason that these stories are bubbling up. There's been a lot of the artistic and documentary community reacting to the Edward Snowden case and these international issues. It's not a surprise that they are taking a different angle on them."
This is all in addition to the featured narrative films, which, let's be honest, can be less of a downer than some of the docs (though we have a hot tip that this year will have at least one deep study of Chinese food, which, mercifully, will be "lighthearted"). For stellar performances, check out Patrick Stewart in Match, Rory Culkin in Gabriel and Robin Williams' turn as a closeted gay man in Boulevard. For more unusual fare, visit one of the Midnight screenings: There is going to be a film called ZOMBEAVERS. Enough said.
Austin, eat your heart out.