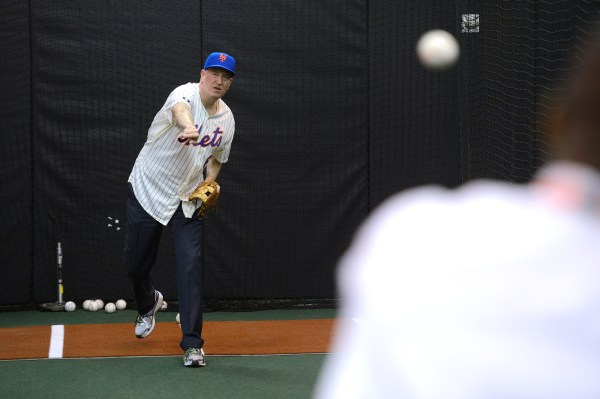 Mets fans would apparently like Bill de Blasio to stick to politics.
The new mayor and famous Boston Red Sox fan was loudly booed at Citi Field today before throwing out the first pitch in the season opener between the New York Mets and Washington Nationals.
Mr. de Blasio, wearing a personalized Mets jersey bearing his name and the number "6", stood a few feet in front of the pitcher's rubber and tossed a strike to a Mets catcher. (The "6" was in honor of 60s and 70s-era Red Sox star Rico Petrocelli.)
Nonetheless, fans aggressively booed the new mayor when his name was announced.
Speaking to reporters before his pitching debut, Mr. de Blasio was reminded that his predecessors often endured boos when tossing out ceremonial pitches.
"In the past, mayors have not always received the warmest reception during the first pitch. Do you feel zen about whatever happens out there on the field?" one reporter queried.
But Mr. de Blasio–a self-avowed baseball fan who took a trip to the Park Slope Armory Y.M.C.A. last night to practice his technique–insisted he wasn't worried.
"As for the response of the crowd, I think everyone's going to be too cold to respond," he said with a laugh. "But whatever it is, it is. I'm a sports fan. I think sports fans have the right to express themselves any way they want. All I can say is I've been practicing my pitch. I was at the Park Slope Armory last night working on my knuckle curveball."
Mr. de Blasio stayed at the stadium to catch the rest of the game, and was spotted munching on a hot dog. He sat at mid-level–not in a luxury box or near home plate–and took in a meeting with Mets owner Fred Wilpon, according to a spokesman.
Additional reporting by Colin Campbell.