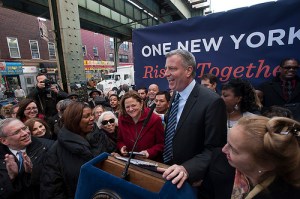 Hailing a bill he's helping push into law, Mayor Bill de Blasio today called the imminent expansion of mandatory paid sick time "progressive legislation in every sense."
Standing with a handful left-leaning City Council members at a required City Hall hearing, Mr. de Blasio praised the controversial bill that will expand mandatory paid sick time coverage to businesses that employs five or more people, upping the number of people covered under a bill the council passed a year ago.
Mr. de Blasio is expected to sign the bill into law later this week.
"This is such an example of progressive legislation in every sense," Mr. de Blasio declared. "Progressive because it recognizes the nature of modern society and the modern family. Progressive because it is compassionate and inclusive. Progressive because it helps our workplaces to be safer and our workforce to be more productive."
"It's really a win, win," he added.
The road to an expanded paid sick time law was fraught with political clashes that even briefly overtook last year's mayoral race. Christine Quinn, the previous council speaker and a former mayoral candidate, bottled up a paid sick time bill for several years at the behest of business leaders, who argued such a dramatic new law would do damage to the city's fragile economic climate. Mr. de Blasio, then the public advocate and Ms. Quinn's Democratic rival, repeatedly bashed Ms. Quinn for blocking the bill. 
Under pressure, Ms. Quinn helped pass a watered-down version of the bill that required businesses with 15 or more employees to provide paid sick days, but Mr. de Blasio and liberal allies charged that the legislation was not far-reaching enough. When Mr. de Blasio was elected mayor and his ally, Melissa Mark-Viverito, was chosen as speaker of the City Council, the two Democrats quickly joined forces to spearhead an expansion bill in January. 
The City Council overwhelmingly passed the bill in February, though a sizable number of council members fretted about the damaging impact the law could potentially have on small businesses. 
But today, there was only praise for the bill and the new mayor. After Mr. de Blasio's remarks, Manhattan Borough President Gale Brewer, a former councilwoman and a driving force behind the original bill, several council members and advocates spoke. Almost all were allies of Mr. de Blasio.
"I'm here to say thank you," said Martha Baker, a leader of the New York Paid Sick Leave Coalition. "Mostly, of course, I want to thank our mayor, who has been a huge advocate from day one of this bill, who never stopped talking about it. And even when the first bill was passed and we thought we were going to have to live with it for a while, he never gave up talking about how it would expand and the rest of us would be reached."