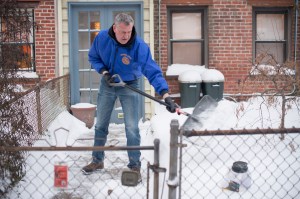 When it comes to New Yorkers kvetching about unplowed streets, Bill de Blasio is a zen master–well, at least a little bit.
Asked today about how he handles the city's occasionally insatiable demand for cleared roads, the mayor described taking an almost meditative approach to the dilemma.
"I think I am an expert on this topic now," he began, to laughs, speaking at the announcement event for his new sanitation commissioner, Kathryn Garica.
"Maybe this is a little zen, [but] the way I look at it is: I get why people are upset. You really can't take it too personally. Our job is to show that every effort is being expended and that we are ahead of the action as much as humanly possible," he continued. "It's important for the public to see that we're calling the play early enough."
"The frustration is something that is natural," he argued.
The de Blasio administration's snow-removal efforts have been criticized this winter, with Upper East Side and Staten Island residents complaining after the second big snowstorm of the season in particular. Other cleanup issues have also emerged, sometimes amplified by the media.
For her part, Ms. Garcia admitted to being a impatient at times and joked about the public being upset "as soon as a single snowflake is not picked up within point-two seconds of having fallen on the ground."
Ms. Garcia then hailed the "phenomenal" work accomplished by everyday sanitation workers.
"You can see the new commissioner is a cool, cool customer–no pun intended," Mr. de Blasio interjected to his own amusement. "A cool customer."