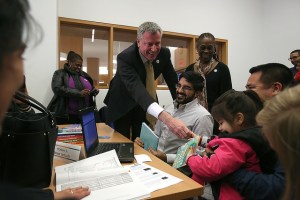 Mayor Bill de Blasio has hired Michaela Daniel, a senior City Council policy analyst, to assist in the roll-out of his prekindergarten and after-school expansion, the mayor's office confirmed to the Observer today.
Ms. Daniel was a key education aide to ex-Council Speaker Christine Quinn and, beginning Monday, will work under Deputy Mayor Richard Buery as a senior policy adviser. Mr. Buery is tasked with implementing Mr. de Blasio's key agenda items, including the implementation of Mr. de Blasio's ambitious pre-K and after-school expansions.
"Michaela Daniel will be a Senior Policy Advisor … working with Deputy Mayor Richard Buery starting Monday, March 31," Marti Adams, a spokeswoman for Mr. de Blasio, said in a statement. "Deputy Mayor Buery's portfolio includes pre-K implementation, community schools, school space issues, and general interagency coordination of education strategies."
In her statement, Ms. Adams said that Mike Nolan will serve as a senior adviser to Mr. Buery as well.
Ms. Daniel currently works as a pro-bono educational adviser, in addition to her council job, according to her LinkedIn page. She previously served as director of operations at a Bedford-Stuyvesant charter school, the page says.
Along with longtime chief of staff Chuck Meara, Ms. Daniel is another longtime Quinn aide to depart after Melissa Mark-Viverito was elected speaker this year.
Ms. Daniel did not immediately return a request for comment.