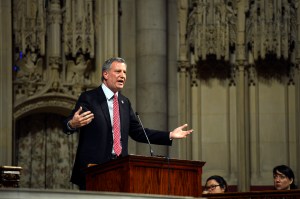 Mayor Bill de Blasio made clear today that his schools agenda will include more controversial co-locations and charter schools, despite his constant hammering of both on the campaign trail.
Speaking today on WNYC's The Brian Lehrer Show, Mr. de Blasio expanded on a speech he gave yesterday admitting mistakes in how he'd explained his administration's decision to pull the plug on a handful of charter school co-locations.
"The previous administration had a particular game plan and many of the co-locations were undertaken without real parental involvement, without a sense of how the co-location would affect the receiving school. And a lot of these co-locations have been very troubled for that reason," he said. "What we've said is there'll be moratorium until we can come up with a fair system that really values the voices of parents and values the needs of the receiving school. But then we will be able to do co-locations in an appropriate manner."
"I think the bottom line is: You can do co-locations, but they have to be done in a respectful and mindful manner," he added.
During his campaign, Mr. de Blasio had vowed a "moratorium" on co-locations, in which one school shares space in a public school building with another–sometimes fueling hostilities and wars over resources. He also raged against charter schools, arguing that many deep-pocketed operators were favored under the previous administration at the expense of traditional public schools.
But today, Mr. de Blasio suggested that, once a set of co-location criteria had breen established, the number of charter schools could very well grow on his watch.
"There's a place for charter schools in the lineup , obviously. And we value that. And once we get the co-location process right, there's going to be an opportunity for charters to continue to have new chances to grow," he said today. "But let's be clear: We have to have a fair and consistent co-location process. We can't have a situation where the existing schools, the receiving schools end up on the short end of the stick. We've got to strike a balance."
On Sunday, Mr. de Blasio visited a church in Morningside Heights, where he offered a mea culpa of sorts on the way he had presented his Department of Education's decision to withdraw co-location approval from a handful of schools, including a trio of Success Academy Charter Schools. The decision infuriated the school's head, Eva Moskowitz, and received a push back from backers like Gov. Andrew Cuomo, prompting a series of emotional rallies and an ad campaign.
"We made some decisions in the last weeks, striving for fairness. But I have to tell you I didn't measure up when it came to explaining those decisions to the people of this city," Mr. de Blasio told the congregants Sunday, according to a transcript of his remarks. "So let me start to right the ship now."
Mr. de Blasio said today that he'd failed to "explain the criteria" that informed the DOE's decisions, which included rules like making sure the co-locations did not displace special education students or put elementary schools into high school buildings.
"The fact is that I didn't articulate to the public that here was consistent review process that yielded a certain set to results," said Mr. de Blasio, who also said he would find space for the kids impacted by the decision. "Obviously we're accommodating the kids in the Success Academy school … We should have said from the beginning it was our intention to keep them whole, to take care of those kids."
Mr. de Blasio also doubled down on the idea that charters should be laboratories of innovation, which can eventually be expanded to benefit traditional public school kids.
"I think there's something to learn from a number of charter schools, and we want to do that," said Mr. de Blasio, who also said he would launch a "personal crusade" on the issue of teacher retention.