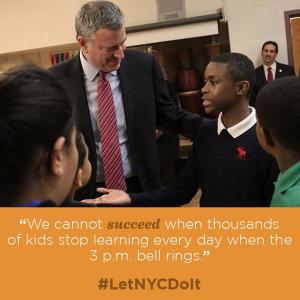 With less than a month to go until the state budget deadline, Mayor Bill de Blasio returned to Albany for the fourth time since his election to press his case to lawmakers reticent to let the city raise taxes on the wealthiest residents to fund universal pre-K.
At a rally at the Washington Armory, which several noted stood half-empty, Mr. de Blasio, joined by city lawmakers and supporters, tried yet again to make his case that the tax made moral and logical sense.
"I think everyone in this room knows what full-day pre-K would mean for our children and our families, what after-school [programs] would mean. You know it! You feel it! You hear it from the people in your families and your lives," he bellowed, speaking like a preacher to the crowd.
"We don't accept a reality that leaves our children unready for their future!" he told the group.
Gov. Andrew Cuomo and other state lawmakers have appeared resistant to Mr. de Blasio's tax hike plan, with Mr. Cuomo insisting that he can fund pre-K for students across the state with existing funds.
But in this "home stretch"–the state budget is due April 1–Mr. de Blasio remained confident that his signature campaign promise would win the day.
"We have built a movement over these last months and now this movement, it's time for it to crescendo. It's time for it to be felt here in Albany," he said. "The facts on our side. The people are on our side. Now we have to get Albany on our side"
"When we win this fight–and we will win this fight," he added to cheers, "this will be your victory. It will be a victory you brought home for our children."
Mr. de Blasio and governor were also set to meet this afternoon, as the estimated 1,500 parents and grandparents who attended the rally met with state assembly members and senators to make their case.
"was lobbied by Amir, just now, a very enthusiastic supporter of @UPKNYC," tweeted Assemblyman Brian Kavanagh, posting a photo of him posing with a smiling child.
Many observers remain skeptical the efforts today will have any impact.
Updated at 5 p.m. with details about the afternoon lobbying.