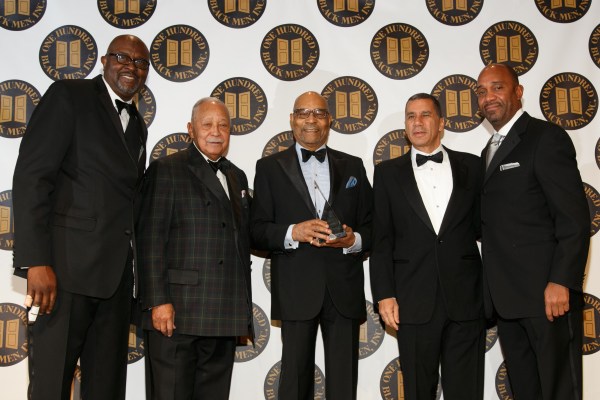 Shindigger was feeling an ever-so-slight pang of African-American guilt. It was the end of February, we had done zilch to commemorate Black History Month, and something told us that watching four hours of RuPaul's Drag Race reruns didn't quite suffice. So to make amends, last Thursday, Shindigger ventured to 100 Black Men, Inc.'s 34th annual benefit gala at the Hilton Hotel's Grand Ballroom. The formal event was a mélange of powerful leaders in the New York black community: State congressmen shook hands with Harlem ministers; Fortune 500 executives rubbed shoulders with philanthropic muckety mucks.
"A leader is only as good as those willing to follow," proclaimed Reverend Henry Belin, a pastor of the First A.M.E. Church: Bethel, who bestowed a corporate leadership award on Gail Grimmett, the senior vice president for Delta Airlines in New York. "Gail is an amazing woman. She is wonderfully in touch with those who need the blessings she so willingly offers," he said to audible "amens."
"I might be the only Jewish girl with my own reverend!" Ms. Grimmett joked as she accepted her honor. "I couldn't be prouder to have the reverend introduce me. We have a saying at Delta, and it's not original: We stand on the shoulders of who came before us."
Those words certainly rang true, as several other honorees acknowledged the heavier burdens carried by their forebears.
"Thank you for your inclusiveness. I feel like the 101st black man!" chuckled a very pallid Peter J. Davoren of Turner Construction as he made introductions for the presentation of a corporate community service award to Reverend Hilton O. Smith, the senior vice president of corporate community affairs at Turner. (The construction behemoth has supported thousands of minority- and female-owned businesses with an estimated $22 billion in seed money.)
"To be honored by the 100 is beyond reproach," Rev. Smith affirmed.
Basil A. Paterson, the former New York state senator and secretary of state, could not attend the ceremonies, but his son, former governor David Paterson, readily accepted the prize in his absence. 
"I feel a sense of humility, and sometimes a sense of embarrassment, because I know there were black men and women who took first steps down new roads with nothing but their own vision," he preached. "They would have very well served our state as governor, our country as president. By the way, we have a black president. Have you noticed that the United States hasn't fallen into the ocean?"
The laughing and clapping patrons ate it up. 
"Those of us who have those opportunities now—we know we're standing in someone else's place. And that's how I felt about my father the first day I was sworn in as governor," he went on.
"Now, we won't talk about how I became governor," the politician added, tiptoeing toward dangerous yet delicious territory. "We'll just say it was the best sex I ever had, and I wasn't even there!"
Next was former Mayor David Dinkins, but by now the fast-disappearing supply of California wine was taking a toll, as was Mr. Dinkins' rather windy reminiscing. Time to move on.
At Flatt magazine's sixth book release party, the atmosphere offered a decided contrast, starting with the screeching gatekeeper at the entrance to Gramercy Park's National Arts Club. Inside, we were delighted to find a raucous, sweaty booze bash attended by equal parts art glitterati, uptown socialites and tipsy hoi polloi. Among the guests: Costa Rican painter Fabrizio Arrieta, winner of the inaugural FlattPrize, which features a six-month residency at the Arts Club.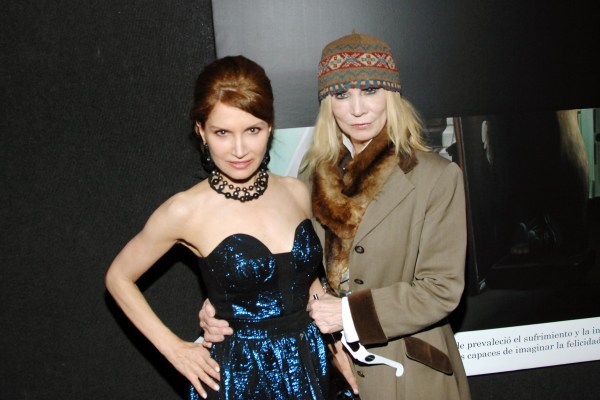 We still had Black History Month on our mind and approached Questlove, manning the turntables beside Brazilian beauty DJ Elle Dee. Who were his black icons? we wondered. "No," was the surprisingly annoyed-seeming response (from a self-proclaimed advocate of black empowerment, no less.)
We moved on to better conversation with Stephen and Susan Posen while being squished against the bar.
"My immediate thoughts are of Curt Flood," Mr. Posen said, likening Major League Baseball in the pre-Flood era to a plantation. "His case was a beacon in the civil rights movement, a step on the ladder of equality. He was also a great ball player."
Mrs. Posen couldn't make up her mind. "I'm thinking of a cluster of great black American women icons," she said, mentioning Rosa Parks, Angela Davis and Alice Walker.
"We really try to promote and highlight icons," Christina Lessa, Flatt's editor in chief, explained to Shindigger. "Also, we want to have the most racially diverse publication in terms of this type of art and culture. We are way too divided." 
Ms. Lessa's black icon? Harry Belafonte.
"I interviewed him for this issue. Harry's about the ugly truth, and the ugly truth is beautiful sometimes."
Her colleague, actor Matthew Modine (who also serves as the glossy's editor at large), injected himself into the conversation.
"What's your column called again?" he asked.
"Shindigger."
"Oh, I thought you said the N-word."
Yikes! "Should we change the name?"
"No, I like it," he assured us.
Shifting to the next topic as quickly as possible, we asked Mr. Modine which black icon he most admired.
"The man who invented the traffic light!" he offered. He must have meant Garrett Morgan, a black Cleveland engineer who in 1922 created a traffic control apparatus intended to prevent car crashes. "The one thing that is guaranteed when you wake up is that the world will change," he continued. "We've got to evolve, hopefully into a sustainable culture."
"My favorite black figure is Malcolm X," interjected Daniel Petrucelli, FLATT's creative director. "That's who I think of when I think of iconic!" 
"Sooner or later, we're all going to be brown anyway," Ms. Lessa offered. "That's what Harry says. If you want to worry about something big, it's the planet."
Shindigger gave that a very serious "amen."