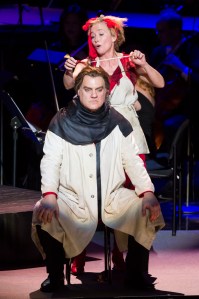 As it turns out, crime does pay, even in so high-toned a setting as Lincoln Center. Last week, the New York Philharmonic's Sweeney Todd won a roaring standing ovation from a packed house.
The "musical thriller," as composer Stephen Sondheim billed his 1979 tuner, enjoyed a lavish concert semi-staging by the New York Philharmonic starting Wednesday night, led idiomatically by the orchestra's musical director, Alan Gilbert.
It's not like Sweeney is a musical novelty: Beginning in 2000, New York City has seen the work staged three times previous to this Philharmonic event, and then there's the fairly faithful film adaptation by Tim Burton. So the current revival has to stand or fall on performances and presentation.
In this case, that means mostly performances, because Lonny Price's heavy-handed direction included only one really clever idea. The show began as a parody of a classical concert, with singers in formal dress carrying bound scores. Then, after a verse of "The Ballad of Sweeney Todd," the cast began to misbehave, trashing the stage of Avery Fisher Hall and overturning a prop grand piano to serve as an improvised stage. After that, it was pretty much Sweeney-by-the-numbers, with visual touches from the original Hal Prince production watered down and cheapened to garner a handful of belly laughs.
The casting showed somewhat more imagination. Opera's Bryn Terfel slimmed down his mighty bass-baritone to a level of speech-like intimacy, reserving the full thundering impact of his voice for a magnificently sustained "Epiphany." Later, he opted for an unusually slow tempo for his reprise of "Johanna," with each stepwise phrase blooming in a ravishing legato. If he acted a good deal less manic than most Todds, that's not implausible. After all, many serial killers are described as "quiet" or "reserved" by their neighbors.
What I did miss, though, was a sense of chemistry between Mr. Terfel and the concert's Mrs. Lovett, played by the British actress and writer Emma Thompson. It was as if he was performing a rock opera at the Royal Albert Hall while she was improvising a comedy sketch at a fringe venue. She has a lot more voice than I expected, a light, true mezzo-soprano that settled into place after a nervously gargled "Worst Pies in London." A gutsy belt lent her character the requisite raunchy edge, but the standout moment of her performance was her brief verse of "Not While I'm Around," sung with disarming sincerity. This kind of simple honesty is so rare in musical theater that Ms. Thompson's few phrases glowed like pearls.
Most of the other principals were standard issue, except for Christian Borle, who garishly overplayed the doomed barber, Pirelli. However, Erin Mackey, as Todd's long-lost daughter, Johanna, made the familiar "Green Finch and Linnet Bird" brand new with her silvery soprano, and Kyle Brenn, who the program assures us is still in high school, sang and acted the apprentice Tobias with star presence and unaffected sweetness. In an unbilled cameo, Broadway diva Audra McDonald played the raddled Beggar Woman with a haughty grandeur that Zinka Milanov might have found a little over the top.
The finale of Sweeney Todd left the stage of Avery Fisher Hall littered with corpses, but the evening, for all its flaws, felt vibrantly alive.
If only the Met could get similarly revved for its production of Wozzeck. On Thursday night, the opera, whose graphic violence quotient is small potatoes compared to the Sweeney Todd bloodbath, played to a listless half-empty house.
Poor attendance at Wozzeck is nothing new at the Met. From the time the work was first heard at the company's old theater below Times Square in 1959, audiences for this Alban Berg opera have mostly stayed away or else remained in place only for an act or so. In the current production, there are no formal intermissions, only brief pauses at indicated act breaks throughout the 90-minute work, but that didn't discourage dozens of audience members from dashing to the exits every time there was a momentary pause in the music.
This wretched behavior at a masterpiece like Wozzeck is despicable, but it can't be blamed entirely on a philistine public: The Met should bear the bulk of the responsibility here. This revival is lackluster and unimaginative in every aspect but one.
And that single positive element is only tangentially to the Met's credit. The title role of the tormented common soldier driven to murder was taken by the superb German baritone Matthias Goerne, who agreed only hours before curtain time to jump, unrehearsed, into the opening night performance. (Thomas Hampson, who was scheduled to sing the role, called in sick the night before.) Luckily, Mr. Goerne had the music fresh in memory since he had sung it in concert at Carnegie Hall the week before.
So committed and detailed was Mr. Goerne's Wozzeck that the opera became almost a monodrama, with the remainder of the cast and even the Met orchestra, conducted by James Levine, all reduced to shadowy supporting characters. You were left wondering: What was the point of the weeks of meticulous and expensive rehearsal time the Met devoted to this revival if Mr. Goerne could just walk in off the street and steal the show?
It's not like he has a golden age voice; his weathered lyric baritone began the evening sounding muffled and distant, and even in the big outbursts of Wozzeck's final delirium, the tone never really soared. But a great artist like Mr. Goerne hardly has need for a great voice; he mesmerized through subtle shifts of tonal color and masterful use of the text. Physically, he dominated the vast Met stage, alternately frozen with tension or pinballing out of control, arms and fists flailing.
In contrast, soprano Deborah Voigt's first attempt at the role of Marie, Wozzeck's mistress, felt very much like a work in progress. The angular vocal lines in this relatively brief part flatter her worn soprano far more than the immense Wagner roles in which she has been heard in recent seasons. However, Ms. Voigt seems temperamentally ill suited to this earthy character and her frequent mood swings; she's just so nice, so eager to please. Even her costume defeats her: In a knee-length white smock, beige slippers and a meticulously blow-dried blond bob, she looks less like a starving peasant than an office manager enjoying a spa day.
Among the large cast, the only real standouts were two tenors in supporting roles: Russell Thomas brought a big, burly sound to Wozzeck's sidekick Andres, and Mark Schowalter built a showstopping scene out of the Second Apprentice's drunken ravings.
Even when this production was new in 1997, it didn't look like much. I remember a joke back then about how the Met had accidentally thrown out the sets and kept the boxes they came in. A few of the contrived, tableau-like poses director Mark Lamos devised remain; otherwise, the cast seemed to meekly follow Mr. Goerne's lead.
What has changed since 1997, though, is the quality of Mr. Levine's conducting. He has always favored a romantic approach that softens Mr. Berg's barbed orchestration, but now everything sounds submerged, with only an occasional glint audible through the prevailing gray rumble. The exception was the great D minor threnody before the opera's final scene. Mr. Levine led this section with so much sweep and fervor it almost sounds like an interpolation by Gustav Mahler.
When the Met can take an opera about violent crime and make it seem so dull, maybe it's time to invite someone else – the New York Philharmonic, perhaps?—to take a stab at it.