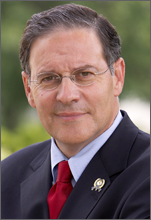 FLEMINGTON – When it comes to town hall protesters, Gov. Chris Christie is getting a little help from a friend.
Assembly Minority Leader Jon Bramnick issued a statement ahead of the governor's 115th town hall in Flemington Thursday condemning the recent phenomenon of protesters disrupting the events. The lawmaker dismissed the protesters by referring to them as "10 hecklers at a meeting."
"The Christie reform agenda is more important than hecklers who want to disrupt town hall meetings. The hecklers have a right to protest, but we should view the governor's policies in comparison with the previous years of inaction," he said.
"The hecklers should consider the issues that plagued New Jersey for a decade before Governor Christie assumed office, including high property taxes and a government that would not address public employee health and pension costs," Bramnick continued. "Can we stay in perspective or do we judge people on a day-to-day basis?"
The governor is accustomed to holding town halls in front of friendly crowds and the events have largely been free from disruption until as of late.
Protesters crashed two of the governor's recent town hall events in Mount Laurel and South River.