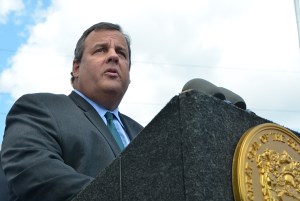 TRENTON – The controversy that's rocked Gov. Chris Christie's administration and caused his poll numbers to dip won't hold any bearing on his decision to seek higher office.
The governor says the George Washington Bridge lane closure controversy won't alter presidential ambitions. Of course, the governor isn't saying whether he has any aspiration to seek higher office.
But if he does or ever will, Bridgegate doesn't matter, he said.
"The fact of the matter is that I had nothing to do with this," Christie said at a Friday afternoon news conference.
"In the long sweep of things any voters, if they consider this issue at all in considering my candidacy if there ever is one, I've got a feeling it will be a very small element of it if any element of it at all," he said.
The governor indicated he's not closing on a decision of whether to seek the Republican Party's nomination for the 2016 race for the White House.
"The way I'll make a decision about whether to seek any future office would be do I think it's what's best for me and my family and secondly, do I think that I have something unique and particular to offer that particular office at that particular time?" he said. "If the answer to those two questions is yes, then I'll seek that office, and if the answer to either of those questions is no, I won't."
Christie also brushed off his sagging poll numbers.
"There's nothing permanent about this stuff," Christie said.
"It's of no moment to me though," he said. "If I were running for re-election tomorrow maybe it would be a moment to me."