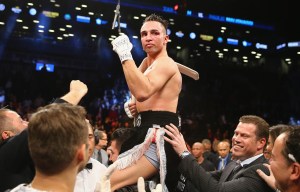 Marty Markowitz isn't the only Brooklyn borough president willing to encourage the borough's residents to battle the bulge.
Mr. Markowitz's recently-anointed successor, Eric Adams, is getting ready to "glove up" and get in the ring with former two-time boxing world champion Paulie "Magic Man" Malignaggi to raise money to fight childhood obesity, according to an announcement from his office.
Mr. Adams, a five-foot-ten, 198-pound former NYPD officer, will be battling Mr. Malignaggi for charity at Gleason's Gym in the Dumbo neighborhood of Brooklyn.
According to Mr. Adams' office, the event will be held "in support of Knockout Obesity, a charity targeting and combating childhood obesity in Brooklyn." Mr. Malignaggi is expected to present the charity with a $25,000 donation "in support of youth and adult nutritional and physical education outreach programs in Brooklyn community centers."
Mr. Markowitz, who would frequently poke fun at his own girth, also backed events encouraging exercise and weight-loss in the borough. Whether Mr. Adams will hold events with the Wu-Tang Clan, however, remains to be seen.