If Donatella and Dolce & Gabbana are the embodiment of glamour, then Brunello Cucinelli is elegance personified. (Check out our slideshow of celebrities wearing Cucinelli). His Madison Avenue store is a comfort zone of cashmere and soft leather, an enveloping, pneumatic atmosphere where big money is spent. It was the $1,170 price tag on a pair of sweatpants (we hadn't seen the ones below) that piqued an Observer office conversation about the glamour of downtime-dressing.
If you're dashing down to St. Bart's for the weekend, this is limo-jet-limo wear that won't bag or sag. It's all in the cut: While comfort is key, there is no room for roominess.
"My concept of luxury fashion is casual-chic with a perfectly tailored fit," Mr. Cucinelli told the Observer during a break from Milan Fashion Week. "We create things you will never want to get rid of; you could wear our pieces for years."
For a shopping list including a Chanel suit, Gucci loafers and a Prada coat, don't forget the Cucinelli lounge pants. There are no age limits on Cucinelli's fans; young Hollywood and mature customers who grew up with the brand bask alike in the flattering glow of Cucinelli colors and an occasionally edgy cut.
The label that began with a loan and a tiny shop in Sardinia in 1979 has metamorphosed into a fashion stalwart. Mr. Cucinelli started out with a simple idea, selling locally produced cashmere sweaters in a wide variety of colors to an exclusive European crowd, hanging on the streets of Milan, via the slopes of Gstaad, all the way to London. (Royalty approves. Prince William wore Cucinelli cashmere to cuddle up to Kate Middleton in their official engagement portraits shot by Mario Testino.)
By the early 1980s, the designer was frequently burning the midnight oil dispatching bespoke orders of 100 units or more to fulfill demand. According to the Bloomberg Billionaires Index, he reached the magic number in 2013, with a net worth of at least 1 billion—at age 59. Growth of his public company is in the double digits.
"I'm as happy now as I was when the business began," he added. "After the success of our sweaters, our only products until 2000, we decided to create a brand with a total look for a certain kind of lifestyle. Our colors take inspiration from our landscapes, culture and art. If you look at the Italian countryside, you will see browns, beiges and white, a natural palette reflected in our collections. I also believe in having a product that is not too widely distributed. Through carefully created retail environments, we retain our exclusivity." The New York store is one of the brand's most successful; Bergdorf-Goodman, Saks Fifth Avenue and Barneys also sell the line.
Cucinelli's tailoring and menswear lines are the real headline grabbers. Linear woolen coats with single lapels fall easily over buttery hued lounge suits for a Californian vibe. Fashionable northern city types love the close-fitted, semi-cropped silhouettes of his fall 2013 line. Few other menswear designers span a gamut of ages and sensibilities with quite as much panache.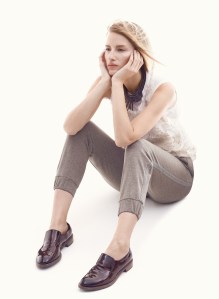 The look announces that one is in charge but doesn't need to button up. Cucinelli devotees are as diverse as Bradley Cooper, Jay Z, Daniel Craig and Prince William. Women love Cucinelli's easy take on dressy glamour, too. Blake Lively is frequently photographed wearing his handiwork, and Kim Kardashian miraculously covered her curves in Cucinelli last fall when she emerged from her maternity blackout. Somebody very helpfully chose a camel, cashmere Cucinelli coat for her to wear as she stalked Parisian sidewalks with Carine Roitfeld. "We pay attention to and are inspired by young people," adds the designer. "We want to be contemporary while maintaining our high standards of quality."
Downtowners head to the Bleecker Street flagship but the Madison Avenue outpost buzzes too.  "New York is a place that's somehow aware of its own modern style," Mr. Cucinelli said. "I like adapting our made-in-Italy knowledge and experience to fit that."
Those three words, "made in Italy," are not incidental to the brand—they are the brand. Every single piece is made in Solomeo, the medieval Umbrian hamlet Mr. Cucinelli bought in the late '80s and transformed into a glorious fashion farm, long before sustainability was a buzzword.
Mr. Cucinelli calls it a "humanistic factory." Craftsmen and women work in converted village buildings brought up to date as state-of the-art workshops. Everyone eats lunch together with Mr. Cucinelli each day. "Employees are treated as preciously as the clothes they create," he said. "I realized that economic value is worthless without human value; one could not exist without the other."
---

An Italian in New York

Brunello Cucinelli's favorite Manhattan haunts:

Il Gattopardo
ilgattopardonyc.com

The classic restaurant in the Hotel des Artistes still delivers on classic Italian dishes, and there's always a table available.

Sant'Ambroeus
santambroeus.com

The laid-back atmosphere of the West Village outpost still manages to be chic and sophisticated without being pretentious. Plus, they have a great breakfast.

The Four Seasons
fourseasons.com/newyork

It's been around for decades, but it's still a place for power meals—although anyone who stays here can ensure anonymity, increasingly rare in New York City.

---
The Solomeo story brings a romance to Mr. Cucinelli's clothing beyond the price tag. He grew up the son of a factory worker in Porto Cervo, Sardinia, without much spare change in his pocket. According to his press office, the designer was influenced "by his father's demoralizing experience" at work. He vowed to run his fashion business in a way that would enhance the lives of everyone involved, spiritually and financially.
He prefers his 14th-century castle to a tricked-out atelier in Milan. He practices Tibetan yoga and claims beauty is what gets him up in the morning and off for a cappuccino before work. "'Beauty will save the world,' Dostoyevsky wrote in The Idiot. I get inspiration from this concept," he said. "I get it from nature, without focusing on people too precisely. I have my style icons, for sure: Gianni Agnelli [the late chairman of Fiat] and Anna Magnani [an Italian actress from the 1950s]. It's not just about how they wore their clothes but how they carried themselves, the way they spoke, smiled and presented themselves to the public.
Going beyond fashion, Mr. Cucinelli sees himself as part philosopher, part artisan. "When Kant says, 'Two things in particular fill me with awe: the starry heavens above me and the moral law within me,' this is like hearing my father's words," he recalled. "He would often remind me: 'Be a good person; always try to keep your word.'"
The designer has succeeded in sticking not only to his word but to his vision. Those sweatpants transcend the mercurial rules of seasonal fashion. A great blazer is a great blazer, period. Mr. Cucinelli nails it every time.