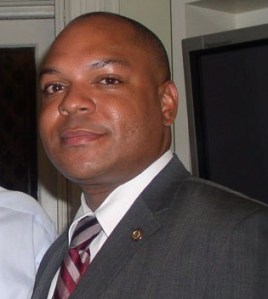 Assemblyman Karim Camara is standing by Assembly Speaker Shelly Silver following a report that suggests the longtime leader stymied the construction of new affordable housing on the Lower East Side in order to maintain the neighborhood's Jewish identity.
In a radio interview this morning with Brian Lehrer, Mr. Camara, who serves as chair of the state legislature's Black, Puerto Rican, Hispanic & Asian Legislative Caucus, cast doubt on the report, telling listeners that he generally distrusts the press.
"While I respect the work that reporters and journalists do–and particularly the writers of the New York Times–I'm always careful of not making assessments or forming a concrete opinion about something I read in the newspaper," he said,
According to the Times, Mr. Silver, along with William Rapfogel, the now embattled former head of the Metropolitan Council on Jewish Poverty, kept a stretch of land on the Lower East Side vacant for more than 40 years in a concerted effort to prevent the construction of affordable housing, which they feared would attract more African-American and Hispanic residents.
"Mr. Rapfogel made clear that the goal was to maintain the area's Jewish identity, seemingly at the expense of other communities," the paper wrote. "Mr. Silver and Mr. Rapfogel steadfastly opposed any mention of affordable housing, which would have altered the demographics of the neighborhood and put Mr. Silver's political base in question."
Asked about the report, Mr. Camara said that he "had not read the story in its entirety," but said he believed that Mr. Silver's staff had already addressed the issue.
"Of course, in terms of what was mentioned, if that was true, yes, that's disturbing. But I'm careful not to make an opinion or a judgement on something based on what I've read," he said. "I can't believe just by reading in the newspaper article that that's entirely correct, that that was the case."
A spokesman for Mr. Silver told the Observer the designation of the Seward Park Urban Renewal Area and debates about the land's future "predates Speaker Silver's entry into public office by nearly a decade." The spokesman, Michael Whyland blamed community disputes for delays and stressed the progress that has been made recently.
"Like many local development issues it has been extremely contentious, and it remained undeveloped because of a failure to achieve a consensus at the community level about the area's future," he said in a statement. "That is why he was so pleased to support the multi-year community board driven process begun under the Bloomberg administration that recently led to a community wide consensus for the redevelopment of the area that will bring new affordable and market rate housing, jobs and private investment to the lower east side."
You can listen to the full interview here:
[protected-iframe id="07f184618cad0c9500959a0367d560fd-35584880-49119065″ info="//www.wnyc.org/widgets/ondemand_player/#file=http%3A%2F%2Fwww.wnyc.org%2Faudio%2Fxspf%2F359758%2F;containerClass=wnyc" width="474″ height="54″ frameborder="0″ scrolling="no"]