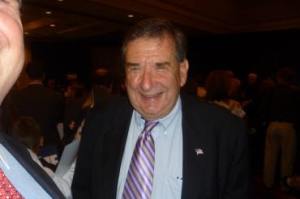 HACKENSACK – As voting members of the Bergen County Republican Organization (BCRO) tried to pick two out of three candidates to represent the party in this year's freeholder contests, a familiar figure stood at the front of the room and received outstretched hands.
It was state Sen. Gerry Cardinale (R-39), curious about the outcome of Ridgewood Councilwoman Bernadette Walsh; versus Robert Avery, a Ridgefield lawyer, versus Dierdre Paul, an Englewood educator and author.
PolitickerNJ asked the veteran Cardinale about federal politics, and specifically the GOP's failure to summon a clear-the-decks challenger to incumbent U.S. Sen. Cory Booker (D-NJ), and the CD3 candidacy of Cardinale's old Bergen nemesis Steve Lonegan, the former mayor of Bogota.
"It's hard to get people to believe he's not beatable," Cardinale said of Booker. "If you had a name person who came in with a lot of money, maybe you could do something, but there's too much starpower and Hollywood money with Booker. How do you overcome that?"
What are his thoughts on Lonegan's anti-establishment bid in CD3, down in Ocean and Burlington counties?
"I don't know the territory down there,"' Cardinale said. "I wish Steve Lonegan would run against [U.S. Rep. Frank] Pallone. Some of the things Pallone has said with respect to Obamacare – that's where the challenge should be."
Someone walked by the bar still adorned with Chris Christie campaign posters and walked past Cardinale.
"Stupid, stupid, stupid," the committee member muttered on his way past. "The stage was set for the presidency."