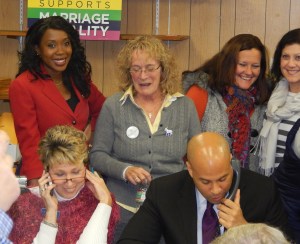 PLAINFIELD – Assemblyman Upendra Chivukula (D-17) walked out of Giovanna's last night unsurprised by the outcome – and disappointed once again with the machinations of the Democratic Party – as new dimensions of intrigue form around the candidates in CD12.
"The process is not as open as I would like it to be," said the engineer and veteran legislator from Franklin Twp.
"What you have is three people sitting there – I didn't know the criteria," he said. "The respect is fine. Chairman (Jerry) Green was respectful and cordial throughout this process. But this was not a convention. I don't even have a list of committee people. Anyway, the ultimate endorsement is from the 12th congressional district. The people don't know who Jerry Green, Colleen Mahr and Linda Stender are."
Amid rumors of another CD12 poll circulating, the assemblyman said he's in and he's not backing down.
"Everything is going great," Chivukula said. "I'm going to win."
With Union's endorsement of Assemblywoman Bonnie Watson Coleman (D-15), though, over state Sen. Linda Greenstein (D-14), insiders questioned how long he'll be around with his home county in his corner.
Would Middlesex try to convince Somerset County Democratic Chair Peg Schaffer to back Greenstein and make it a fair fight between Union and Mercer (Watson Coleman) on one side, and Middlesex and Somerset (Greenstein) on the other?
Or would Schaffer – exercising a true kingmaker option – cement Somerset for Watson Coleman and advise Chivukula to back the assemblywoman?
There's a natural alliance there between Watson Coleman and Schaffer.
Both were strong advocates last year for the gubernatorial candidacy of Democratic nominee Barbara Buono.
Watson Coleman has repeatedly made her case as the voice for those Democrats elbowed aside by the party establishment's alliance with incumbent Republican Gov. Chris Christie.
"If Peg can be shown that Upendra can't win, and that backing Bonnie and going strong for her in Franklin does more for her than leaving Upendra in the race to drain votes from Linda in Middlesex, maybe that's her best play," one source speculated.
But Schaffer also has strong ties to Middlesex, where her law firm has the contract in Monroe, one of Greenstein's base towns.
Coming off Green's decision last night, an insider told PolitickerNJ that Watson Coleman could celebrate a solid victory in Union.
Mercer and Union make up two thirds of the primary voters in the district, which is still a new district, admittedly, and has not performed but once since its 2011 inception.
Then there's the Cory Booker factor.
Running for re-election this year, the senator will allow candidates spread among the four districts to use his name and face as befits their respective lines in the counties that back them.
The source said that dynamic assists Watson Coleman in Union more than Mercer, because voters don't know any of the candidates well.
"In Mercer, Bonnie already has a pretty strong base, but it helps offset a Linda asset of having run mega dollars of TV ads in Mercer in her races," the source said.
But back to Schaffer : the big four towns in the 12th District Democratic Primary includes one in her county: Plainfield, Trenton, Princeton, and Somerset County's Franklin Twp.
Those four together have historically delivered more than 35% of the primary vote, significantly more than all the votes from Middlesex County.
Again, that's not a long history and it was with then candidate U.S. Rep. Rush Holt (D-12) running, not the Middlesex-based Greenstein, but it illustrates the power Schaffer can wield – with or without Chivukula in the contest.
For all the speculation, Schaffer maintains her loyalty to Chivukula, who stepped up and ran in 2012 against U.S. Rep. Leonard Lance (R-7) to assist the chair's long thwarted quest for a freeholder seat.
"I had hoped Jerry would stay neutral because he doesn't have a candidate from Union County in the race," Schaffer said. "But we are 100% committed to Upendra."