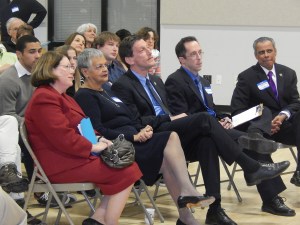 Over the last two days, leading up to critical conventions in Middlesex (Sunday) and Mercer (next Wednesday), the campaigns of Bonnie Watson Coleman and Linda Greenstein traded statement-making endorsements, each on the other's turf.
The state senator from the 14th District, Greenstein sniped the East Windsor Education Association (EWEA) last night in her 15th Assemblywoman's home county of Mercer.
The endorsement occurred on the heels of Watson Coleman plucking a South River councilman out of Greenstein's Middlesex.
First, the EWEA voted to endorse Linda Greenstein for Congress, citing her record of support for teachers, students, and public education.
"From fighting for adequate school aid for our suburban communities to standing up for kids and teachers, Linda Greenstein has been a true friend to public education," said Ellen Ogintz, president of the East Windsor Education Association. "Linda knows that strong public schools make strong communities, and she has always kept the interest of the taxpayer in mind. In addition, Linda has been a champion of important issues facing seniors in our communities today, and she has been on the front line fighting for safer gun laws, an issue of interest to everyone across the state. We're excited to give her our unwavering support."
In a statement, Greenstein of Plainsboro said she would be a forceful voice in Congress for greater investments in public schools, and for giving teachers greater flexibility in the classroom, rather than having to teach to the needs of standardized tests.
"I am always grateful to have the backing of our public school teachers, as I would not have been able to achieve what I have if it weren't for the public school teachers who taught me," said the senator. "Our future rides on giving all of our kids a top-notch education. Together with our teachers and communities we can do just that."
Contradicting the move, South River Councilman Guindi earlier in the week backed Watson Coleman from Ewing.
"As an elected official, my sole responsibility is to do the right thing for my constituents," said Guindi. "Assemblywoman Watson Coleman has never wavered in her beliefs and has always been out in front on the important fights for middle class taxpayers. As a councilman, I never have to wonder where Bonnie stands on an issue because I always know she will be front and center fighting for us. She has been a tremendous advocate for her constituents as an Assemblywoman and she will be a tremendous advocate for Middlesex County and the 12thCongressional District as a Congresswoman, and that's why endorsing Bonnie Watson Coleman for Congress is an easy decision."
Watson Coleman thanked the Middlesex County Councilman for his support and pledged to fight every day for South River and Middlesex County if elected to Congress.
"Councilman Guindi's decision to endorse our campaign is consistent with what we have heard from many in Middlesex County, but his public endorsement is a testament to his leadership and his will," said the assemblywoman. "If elected to Congress I intend to fight the Tea Party extremists, battle to protect Social Security and Medicare and work hard to create and keep jobs here in America. Those are the ideals I carry with me every day, and those are the ideals I will fight for in Washington for all those I would represent in Somerset, Union, Mercer and Middlesex Counties, the entirety of the 12th Congressional District."