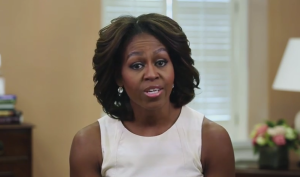 If the fear of mountains of medical bills isn't enough to get you to enroll in a healthcare plan, maybe some kvetching moms can.
That's the theory behind an adorable new video advertisement for Healthcare.gov, wherein a group of celebrity moms nag young people to sign up for health insurance before enrollment ends on March 31st.
The moms include Sharon Feldstein (mother to Jonah Hill), Patsy Noah (mother to Adam Levine), Terria Joseph (mother to Alicia Keys), Guadalupe Rodriguez (mother to Jennifer Lopez), and the healthcare goddess herself, First Lady Michelle Obama.
"Seriously, do you want your mother to have a nervous breakdown?" Ms. Feldstein asks in the video, sounding not unlike our own mother. "You need health insurance. It's imperative that you have health insurance."
"We nag you because we love you," Ms. Obama says, "So go to Healthcare.gov and enroll today."
The video, meant to be shared using #YourMomCares, was created with the help of pioneering advertising agency Droga5.
It's the latest attempt by the White House to convince young people to sign up for health coverage (President Obama plugged Healthcare.gov on an episode of Funny or Die's "Between Two Ferns" web series earlier this week).
Check out the video here:
[youtube http://www.youtube.com/watch?v=OPMsZYyesRE&w=560&h=315]