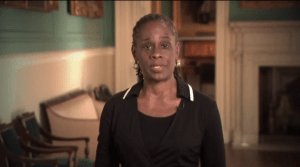 Social media-savvy Chirlane McCray is using her online platform to urge New Yorkers to sign up for Obamacare.
The city's first lady released a video on her Tumblr page this afternoon urging New Yorkers to sign up for coverage under the Affordable Care Act.
Ms McCray, who also launched a "Get Covered" media campaign with Health Commissioner Mary Bassett and Incoming HRA Commissioner Steve Banks earlier this month, has been an outspoken advocate for the controversial program, for which New Yorkers must sign up by March 31.
In her new video, Ms. McCray recalls her own healthcare struggles, discussing a serious medical issue for which she could not afford treatment when she was a young writer.
Ms. McCray is likely referring to a severe asthma attack she suffered approximately 30 years ago. Though the young Ms. McCray lacked health insurance at the time, doctors at the now-shuttered St. Vincent's Hospital in Greenwich Village still provided her life-saving treatment, The New York Times reported.
"I was a young, healthy, freelance writer. I was a vegetarian. I was athletic. I took care of myself," Ms. McCray says in the video.
"But when I developed a serious illness, I learned the hard way how difficult and expensive life can be without proper health insurance. I put off doctor's visits. And when I finally went for medical care, I couldn't really afford the medicine or treatment that I needed," she added.
She went on to tout the program that is the signature achievement of President Barack Obama, who has repeatedly heaped praise on her husband.
"Thanks to the Affordable Care Act, everyone can have access to quality health care plans. And people with pre-existing health conditions cannot be denied coverage," she concludes. "So please call 311 today and make sure you get health coverage. And then tell your relatives, your friends, neighbors and co-workers to do the same. The healthier we are, the more we can do together."
Watch the video here:
[youtube http://www.youtube.com/watch?v=5iF_e384Tvg]