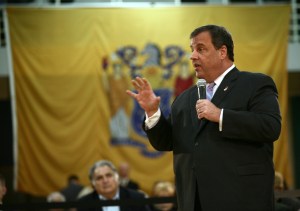 SOUTH RIVER – If the motor company Tesla wants to sell directly to consumers their fight is with the state Legislature, not the governor's office, said Gov. Chris Christie on Tuesday.
The declaration came a week after Tesla's CEO, Elon Musk, lashed out against New Jersey's governor for supposedly cutting a "backroom deal" with the state's auto dealer lobby to push through a rule change that effectively bars the eclectic car company from selling its vehicles directly to consumers.
"I'm not pushing Tesla out, the state Legislature is," Christie said after taking a question from an audience member at his South River town hall.
"My job is not to make the laws, but to enforce the laws," he said. "I have no problem with Tesla selling directly to consumers, except it's [against the law]."
Christie charged the Legislature with not taking up action to send legislation to his desk that would correct the roadblock.
"I can't pick and choose which laws I enforce," Christie went on to say.
"Go to the 120 members of the state Legislature and change the law and put a bill on my desk," he said. "But I can't let them operate against the law."
Christie's remarks came less than a week after Tesla's CEO penned an open letter to the people of the Garden State.
"The rationale given for the regulation change that requires auto companies to sell through dealers is that it ensures 'consumer protection,'" Musk wrote. "If you believe this, Gov. Christie has a bridge closure he wants to sell you!"