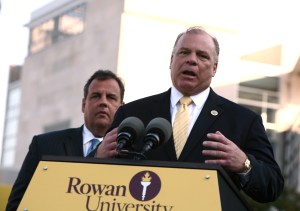 TOMS RIVER – Gov. Chris Christie sent a veiled threat to the Democratic-controlled Legislature Tuesday, saying his patience on bringing lawmakers to the table to discuss pension reform proposals "is not endless."
The looming battle between New Jersey's Republican governor and legislators continues to become more evident as Christie told a friendly crowd in Toms River that he's on a mission to make additional changes to the state's pension system.
"What I'm trying to do is save the pension system," Christie declared, years after signing into law the state's historic pension and health care benefits reforms of 2011.
He didn't call anyone out by name and his comments lacked Christie's usual tough style. But the message was undisputable: Come to the table Democrats.
"I'm trying to work with the Legislature now to see what they might agree to," said Christie, a short time after telling the town hall crowd he heard news reports about Trenton lawmakers saying the answer to the state's pension woes is an improved state economy.
"That's what politicians always tell you when they don't want to make the hard decisions," Christie said.
The governor didn't call out the lawmaker by name, but it was an apparent reference to Senate President Steve Sweeney and the lawmaker's comments following Christie's recent budget address.
And then came the warning.
"If the Legislature continues to take the position … then I will come out with my own plan," he said. "My patience, as you might know, is not endless."