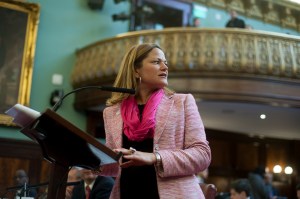 Council Speaker Melissa Mark-Viverito has chosen the members of the council's new "Policy Working Group," according to a letter obtained by the Observer.
The working group, still in its infancy, will help guide the legislative process and vet important bills, according to sources. In the letter, Ms. Mark-Viverito tells council members that the group will work be "working with guidance from my office and Council Leadership to help build consensus around priority legislation and policy initiatives for the Council."
"With hundreds of bills introduced each year, the Policy Working Group will provide a vehicle for reviewing legislation, building consensus, and making recommendations based on Council priorities," Ms. Mark-Viverito writes.
The council members serving on the group are: Inez Barron, Laurie Cumbo, Vincent Gentile, Vincent Ignizio (Ex Officio), Peter Koo, Brad Lander, Mark Levine, Darlene Mealy, Rosie Mendez, Daneek Miller and Ritchie Torres. Some of the council members included did not originally support Ms. Mark-Viverito during the speaker's race. The effort has been framed by some as an effort to "democratize" the council and help placate members who still feel alienated.
News of the group's existence was first reported last week by the Observer.
A spokesman for Ms. Mark-Viverito didn't immediately respond to a request for comment but subsequently issued a press release confirming the letter's authenticity.
View the full letter below:

Dear Colleagues,
As we have discussed, I am pleased to announce the formation of the NYC Council's Policy Working Group.

The Policy Working Group will be a group of Council Members working with guidance from my office and Council Leadership to help build consensus around priority legislation and policy initiatives for the Council. With hundreds of bills introduced each year, the Policy Working Group will provide a vehicle for reviewing legislation, building consensus, and making recommendations based on Council priorities.

Members will work with me to solicit input from the full Council, work with Committee Chairs, identify policy priorities, and help focus on legislation, policy initiatives and other policy tools to achieve our shared goals. Going to this group is not a 'required step' for legislation to be considered in committee or to come to the floor. This group is a space for building consensus, focus and momentum on shared priorities. The Group will report regularly to the Democratic and Republican conferences.

I have asked the following members to serve on this group:

Inez Barron
Laurie Cumbo
Vincent Gentile
Vincent Ignizio, Ex Officio
Peter Koo
Brad Lander
Mark Levine
Darlene Mealy
Rosie Mendez
Daneek Miller
Ritchie Torres
Mark Treyger
Jimmy Van Bramer, Ex Officio

I look forward to this group working with us to build consensus on our shared priorities for New York City.

Sincerely,

Melissa Mark-Viverito
Speaker