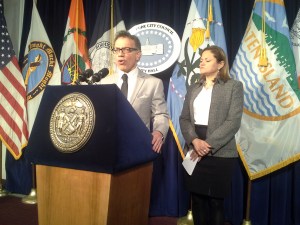 The City Council is set to pass a bill today that would allow unpaid interns to sue for sexual harassment.
The bill, sponsored by Councilman Jimmy Vacca and Manhattan Borough President Gale Brewer, would grant unpaid interns some of the same rights as paid workers.
"No one should ever have to tolerate a discriminatory work environment," said Council Speaker Melissa Mark-Viverito at a press conference before today's City Council meeting. "Interns are often young people getting their first experience in a professional setting so it's especially important that they are exposed to a respectful and appropriate work environment where their rights are protected."
"Passing this law is the right thing to do and it's also common sense," she added.
Mr. Vacca crafted the bill after a federal judge ruled last year that an unpaid intern didn't have standing to sue for sexual harassment because she was not a paid employee. Mr. Vacca, a member of the council's leadership team, was compelled to draft a bill that would amend the city's human rights laws.
"We found a loophole that revolved around a court decision," Mr. Vacca said. "We want that loophole closed and by acting today, we will be closing that loophole because in our city, not only do interns perform their work because they want to gain experience, but they're also allowing many offices to function in a more professional way, in a more inclusive way, each and every day."
The bill, which Mr. Vacca's office said has the votes to pass, is the only major legislative item on today's City Council agenda.
Council observers expect the City Council to introduce and pass more legislation as the body's many freshmen lawmakers settle into their roles.
The office of Mayor Bill de Blasio, who will have the opportunity to sign or veto the bill after it passes, did not immediately return a request for comment.