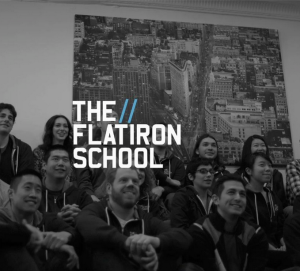 Anisha Ramnani has developed an app called Twidder, which improves users' literacy by having them correct celebrities' grammatically incorrect tweets.
She and 27 other students from the Flatiron School's Fellowship program will gather at the school's Brooklyn campus tomorrow — a week before their graduation — and show off their creations to potential employers.
"It's been five months of working on our projects," Ms. Ramnani told Betabeat over the phone. "I cant wait to show everyone. Obviously it's something I'm really proud of, but I'm also really nervous."
Ms. Ramnani is part of the Flatiron School's first-ever Fellowship program, wherein New York City pays to give a small, diverse group of students the skills they need to find entry-level jobs in web development. With a two percent acceptance rate, the program is extremely selective, and picks people not necessarily for having extensive coding experience, but for having a passion and willingness to learn.
"I knew very minimal code when I first started off," Ms. Ramnani said. "When I go to tech meetups now, I can actually understand what they're saying, and the code that they're looking at… We're more than ready [to enter the workforce]."
Flatiron fellow Lavoisier Cornerstone, 35, came from a rough background and never had a college education, but he did have a drive to learn code, and share his knowledge with black and latino kids in New York City. 
"I poured my heart and soul into that application," he told Betabeat in a phone conversation. 
After five months of intense work at the Flatiron School — which includes an externship, where students make real Internet things for actual companies — Mr. Cornerstone has helped create a Ruby on Rails application for an independent business owner's website.
"This has definitely been as close to a real world experience as most of us have gotten," he said.
Besides training people to go out and get jobs, the Fellowship program also promotes diversity in the tech industry. According to Rebekah Rombom, Flatiron's vice president of business development, 82 percent of the fellows are not white men, and 60 percent of them are women. They also come from a variety of socioeconomic backgrounds.
"There are a lot of amazing people trying to learn how to code," Ms. Rombom said. "It's exciting that the city has paid everyone's tuition and is supporting this group of people that might not otherwise have access to the education."  
"No matter where this takes me, my life will never be the same," Mr. Cornerstone said. "We've never had a time like this, where something so powerful was accessible to all."