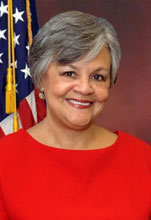 Princeton Democrats are backing Assemblywoman Bonnie Watson Coleman's congressional bid, according to a statement Wednesday.
Princeton Municipal Committee Chairmain Peter Wolanin and Princeton Democratic Club President Jon Durbin endorsed Coleman's CD 12 bid ahead of the Mercer County convention slated for later tonight.
Coleman is vying for the party's nomination against state Sen. Linda Greenstein and Assemblyman Upendra Chivukula.
"Bonnie Watson Coleman has long shown not only the ability, but the willingness, to stand and fight for our shared Democratic, progressive, values," reads the joint statement.
"She was front and center for the Buono campaign against Chris Christie last year, even when some Democrats on the ballot were not, and that is indicative of her trailblazing efforts on behalf of our Party," it continued. "Bonnie has also worked hard in Trenton for education funding, the minimum wage increase, women's health care funding and additional gun safety measures, never giving up in the face of difficult obstacles and never sacrificing her beliefs. Bonnie is the best candidate to work every day to represent Democrats and middle class families throughout the 12th District down in Washington and we are wholeheartedly, personally, endorsing her today."
The Mercer County convention is slated for 7 p.m.