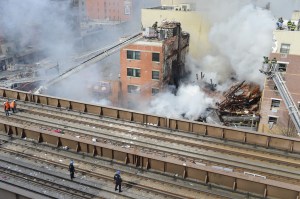 Today's building collapse in East Harlem reveals the New York City's "dire need" for infrastructure improvements, Councilman Ydanis Rodriguez declared this afternoon.
Mr. Rodriguez pointed to yesterday's report from Center for an Urban Future that called for nearly $50 billion to improve the city's infrastructure, including aging gas lines. 
"Initial reports from the devastating explosion in East Harlem cite a noticeable smell of gas immediately before the explosion took place. This troubling concern comes just a day after the Center for an Urban Future released a report noting the dire need for mass infrastructural improvements to our city's gas lines, water pipes, roads and rails," said Mr. Rodriguez.
"Today's events demonstrate how real that need is," he added.
Mr. Rodriguez, the chair of the council's transportation committee, vowed to work with Mayor Bill de Blasio and Speaker Melissa Mark-Viverito, who represents East Harlem, "to push for more funding for our transportation infrastructure and will look to hold a hearing on the troubling reports from the Center for an Urban Future to see what more we can do as a city to make our future more secure."
"With two reported deaths and over a dozen injuries, the human cost of inaction is clear," he said. "If the necessary funding for these repairs and improvements is not granted by the federal and state governments, tragic occurrences such as today's may become more common in our city."