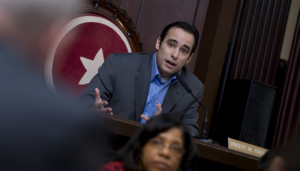 Councilman Vincent Ignizio, the minority leader of the overwhelmingly Democratic City Council, sounded a warning bell this morning over the impact of Mayor Bill de Blasio's progressive policy agenda.
In an interview on Geraldo Rivera's WABC radio show, the host asked whether Republicans and conservatives should "feel under siege by this progressive administration."
"Well I think we are," replied Mr. Ignizio. "And I think what we have to do is make our voices heard even that much louder. And it's difficult to do in this city. 
Mr. Ignizio, who leads his party's meager three-man caucus, went on to argue that the new administration's policies would be harmful to businesses.
"My concern is that you start whittling away and you kill the goose the lay the golden egg here in New York City: And that is, the prime money mover is business," he said. "A lot of the programs that the progressives profess to love and want to expand all are paid for by the business community. So you need to respect that ensure that we don't do something to harm it."
He pointed to the council's passage last week of expanded paid sick leave legislation, which will require most city businesses to provide paid sick time off for their workers, criticizing the way the council scrapped a previous, less expansive version of the bill, which was supposed to take effect in April.
"It's bad for business. It's bad for our local economy. And they're going to feel it; they're going to feel in it in tax dollars," he said.
On Saturday, media mogul Rupert Murdoch took to Twitter to lament the current state of the city's leadership. "NYC now totally managed by leftist activists with no experience in running anything beyond protests," he said, perhaps inspired by a New York Times story on the subject, predicting: "Big mess ahead."
"Is there, as my boss says, a big mess ahead?" asked Mr. Rivera, who hosts Geraldo at Large on Mr. Murdoch's Fox News channel.
"That's my fear," replied the councilman. "We ought to be very closely watch our great city because times are changing, and potentially for the worse."