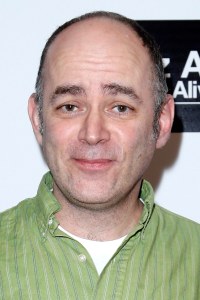 Last Wednesday evening inside a nondescript bar on Avenue C, the comedians gathered. One glance across the room showed Eugene Mirman, Seth Herzog, Craig Baldo and Josh Gondelman. They were there to celebrate the 50th birthday of Todd Barry, a longtime friend and colleague of perhaps the most famous comedian in the world, Louis CK, who stood self-consciously in the corner of the bar, mouthing the words to "Happy Birthday" when the cake was brought out.
Mr. CK has acted as a kind of executive producer for Mr. Barry's latest special, Todd Barry: The Crowd Work Tour, which is available exclusively on Mr. CK's web site. It features Mr. Barry's tour across seven cities without any prepared material; the shows consisted solely of the comedian talking to people in the audience.
Much has been made of Mr. Barry's relationship with Mr. CK. Mr. Barry appears in many episodes of his friend's show on FX, Louie, as well as in other projects, though they each have very different styles. Mr. Barry is deceivingly soft-spoken and laconic. He has an acidic, withering tongue. Mr. CK is loud and explosive with his emotions, but Mr. Barry is quietly, painfully sarcastic. Both of them are bald.
The same qualities that made Mr. Barry perfectly suited to play Mickey Rourke's asshole of a boss in Darren Aronofsky's The Wrestler are the same as the ones that make The Crowd Work Tour so baffling on the surface: Why would this guy, who doesn't seem to like interacting with anyone very much, go onstage without a safety net and perform incredibly long sets–up to an hour and forty five minutes, in one case–of the comedy equivalent of improv jazz?
"You don't strike me as a people person," I told Mr. Barry two days after his birthday over soft drinks in the East Village.
"I could see why you'd say that," he responded, barely bothering to shrug.
He was born in New York and migrated to Florida when he was 8. He still remembers his first open mic show, a year out of college, on November 1st, 1987, during the "80s comedy boom," according to the comedian. It was at a North Miami Beach place called Coconuts Comedy Club.
"I had some great material," Mr. Barry remembers. "A lot of stuff about McDonald's and circumcision. Not together, they were two separate bits. But I was very prepared, I wrote it all down."
He moved to New York a year later, and took various temp jobs, including a substitute teaching gig at the School for the Deaf on 23rd Street.
"I didn't know sign language," he said. " I was just sort of a figurehead; the person that had to be legally standing there." During the nights, he'd go to New York's stand-up clubs: Caroline's, To Catch a Rising Star, The Comedy Cellar. He became friends with Mr. CK, Sarah Silverman, Dave Atell and would frequently see Jon Stewart and Ray Romano waiting for their turns on the mic.
Like Marc Maron and Mr. CK, who both of reputations as so-called "comic's comics," he's especially popular with other comedians. This pops up in a scene early in Crowd Work Tour, where he singles out a guy in a San Diego bar who admits to working "part-time" at a comedy club.
"What is your favorite kind of music, Todd?" the guy asks him.
"No, you don't get to ask me questions," Mr. Barry shuts him down, without missing a beat. After a couple more questions, Mr. Barry says venomously: "Oh, you're a comedian. It's weird that I didn't pick up on that."
"These people knew what they were in for, I made sure they were told ahead of time," Mr. Barry told me. "I would just get out on stage and see what happened. Sometimes I would just go out and riff for a little while, then look around and be like 'Okay, let's do this. What's your deal?'"
One of his favorite moments was at that first club in the special, where Mr. Barry asked in his lethally laid-back way if an older gentleman had been part of a punk rock band. He had.
"I thought that was great; I sized him up and happened to be dead-on. I even got his instrument right. He even had this great story, about making $20,000 from selling his band's name to a British group. Those are the best kind of stories you can get."
Crowd work, Mr. Barry said, comes from early in his career, when he'd be pre-paid for a set but didn't have enough material. The comedy clubs in Florida were anarchic. He'd never know if he had ten minutes or forty. Instead of wondering which jokes he'd do, he'd just do every joke he had. When that didn't go over well with the audience, the options were either to steal someone else's jokes or, as Mr. Barry put it, "just start stalling." He calls it a skill.
As for the response, so far it's been great: he's planning another Crowd Work tour, and has already been invited to be on Terry Gross as well as Ice-T's podcast, Final Level. But Mr. Barry doesn't think that he'll play such long sets when he hits the road again.
"It is terrifying when you think about it," he said. "I tried not to. It's like flying; when you think about it, it's crazy that you're up there. But I've also been up there for 26 years. You get confident. You get skills."
In the end, he told me, "There are comics who do crowd work well, and there are some that you want to be like 'Come on, tell a joke man.'"