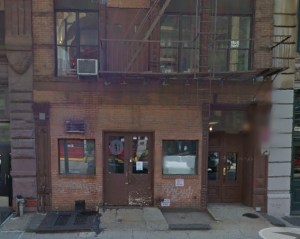 Back in December, Nathalie Karg was showing at Miami Beach's Untitled art fair under the aegis of Cumulus Studios, the company she founded in 2008 to make functional pieces of design with artists, when a broker walked into her booth and asked where her space was located.
Ms. Karg didn't have one. Instead she'd been selling Cumulus's pieces at fairs and online, while mulling a move into the art-dealing game. "I've been looking, but I've been quite unlucky," she told him. He replied, "I might have something for you."
This Saturday, March 29, Ms. Karg will open her first show in the space that he suggested, a 1,500-square-foot former sandblasting factory with 13-foot ceilings at 41 Great Jones Street, between Broadway and Lafayette, It's right next door to the Karma bookstore and gallery, and will operate under her own name.
"The walls are completely decrepit, and I have huge holes everywhere," Ms. Karg told me in a telephone interview. "We've been cleaning nonstop for two weeks and the grime that we removed is unbelievable, but now it's clean." The lease is for a year—the developers may build something new after that—so she's kept the space fairly raw, just adding new lights and a few fresh walls.
Her first show is titled "New Age," and brings together work by Pentti Monkkonen, Liz Craft and Fabian Marti. Painter Jennifer Guidi will follow in May.
Though Ms. Karg plans to integrate Cumulus pieces into shows and fairs when possible, she's planning to develop a dedicated roster. "I want to work closely with artists," she said. "The idea for me is to really be working tightly with an artist and be representing the evolution that they experience themselves."