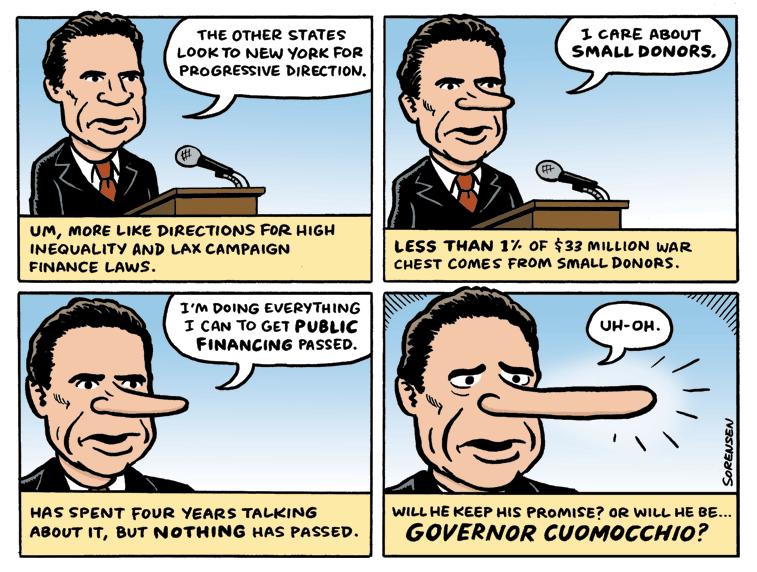 Critics to the left of Gov. Andrew Cuomo are ratcheting up their attacks with a new cartoon series portraying him as the Pinocchio-inspired "Governor Cuomocchio."
The series, which is being launched by the advocacy group EffectiveNY, "will highlight Governor Cuomo's propensity for stretching the truth and his record of failing to deliver on big promises," according to a press release set to go out later this afternoon.
The first edition is currently running in the Legislative Gazette, which is distributed to all of the legislative offices in Albany, and suggests that Mr. Cuomo is falling short when it comes to moving the state in a "progressive direction" and passing campaign finance reform.
"Will he keep his promise or will he be…Governor Cuomocchio?" it concludes.
More cartoons are set to be published in the coming weeks in other outlets "aimed at raising questions Cuomo's credibility as a Democrat" as Mr. Cuomo gears up for his re-election campaign, according to the release.
"This public education effort is designed to help Democratic voters understand Cuomo's failures and unmet promises on key issues that will be at the heart of his re-election campaign," EffectiveNY Founder Bill Samuels said in a statement. "From his phony Redistricting Amendment to his property tax gimmicks, Cuomo has a record that should alarm and unsettle Democrats. If he doesn't change his ways, Cuomo could face a serious primary challenger on the left, and there won't be anything funny about it."
The governor's office did not immediately respond to a request for comment.
The Pinocchio theme seems to be popular lately. State Senator Liz Krueger was quoted in the New York Times today lamenting the state of Albany, saying: "We have gotten to the point where everyone just thinks they can lie … and no one will ever say, hey, your nose is really growing long."