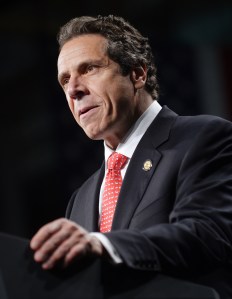 Gov. Andrew Cuomo today did his best to undermine his new Republican challenger, Westchester County Executive Rob Astorino, suggesting Mr. Astorino might not even win his own primary.
Even as Mr. Astorino appears likely to become the Republican nominee–the only other prominent candidate, Donald Trump, said he would only run unopposed–Mr. Cuomo nevertheless cast doubt on Mr. Astorino.
"I've seen the movie before. I've run for governor before, obviously. That's how you become governor, to state the obvious," he said this morning, speaking on The Capitol Pressroom radio show.
Mr. Cuomo then recalled his own 2010 governor's race, which involved at one point three different Republican candidates: Suffolk County Executive Steve Levy, former Congressman Rick Lazio and Buffalo businessman Carl Paladino. Mr. Levy, a Democrat backed by some of the GOP establishment, ultimately failed to secure enough support to run in the Republican primary. Mr. Paladino, a conservative firebrand, proceeded to upset Mr. Lazio in a one-on-one match. Mr. Paladino was crushed by Mr. Cuomo in the general election.
Mr. Cuomo, who is known as a cunning political tactician, argued today that more surprises could easily emerge this year.
"And since I've seen the movie before, I remember first I was running against Rick Lazio. Then I was running against Steve Levy. Then I was running against Carl Paladino," Mr. Cuomo said with a chuckle. "So I learned: Let them figure out who the Republican candidate is. Maybe it's Mr. Donald Trump, who I heard says he's running. And Maybe it's Mr. Carl Paladino again. That would be a redux race, the Cuomo-Paladino 2, in a series. Or maybe it's Mr. Astorino. So we'll see who the Republican candidate winds up being."
Mr. Cuomo also dismissed on a new poll out this morning, which found that his job approval rating is down to its lowest level since taking office, dropping 10 points since November–with his worst numbers upstate and in the suburbs, where Mr. Astorino is expected to be most competitive.
"Let's first find out who the candidate is. And second … all of these polls, the adage is, you know, they go up and they go down," said the governor. "What has happened since November, I have no idea … Every other poll says everything we put in the State of the State and the budget–which is the only things that's happened–these provisions are all overwhelmingly supported, right."
He further defended his record on the economy, which Mr. Astorino has made clear he plans to challenge.
"Facts matter at the end of the day. And when it comes to jobs, for example: Is the economy great? No. But is the state doing better? Yes," said Mr. Cuomo .He pointed to the state's new jobless rate of 6.8 percent–the lowest level since 2008, as one example of the progress.
A spokeswoman for Mr. Astorino did not immediately respond to a request for comment. But at his campaign launch today, Mr. Astorino shrugged when asked whether Mr. Trump was serious about challenging him for the nomination.
"You'd have to ask Donald Trump that," said Mr. Astorino. "Donald and I have had a good relationship … If he chooses not to run, I would ask for his support." 
Additional reporting by Colin Campbell. (Disclosure: Donald Trump is the father in law of Jared Kushner, the owner of Observer Media Group.)