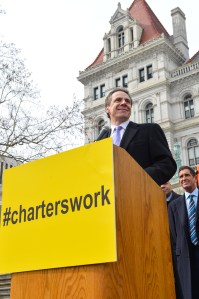 After Mayor Bill de Blasio took a pounding on MSNBC's Morning Joe today for his sometimes critical approach to charter schools, Gov. Andrew Cuomo scheduled an appearance on The Brian Lehrer Show to praise them.
Not only are charter schools not a threat, Mr. Cuomo said, but they are part of the solution to failing public schools, which he called "the civil rights issue of our day."
"The problem with the public education system is that it is failing too many students. And failing schools have now failed generations of students. And we need to be focusing on that issue. You want to talk about civil rights issues of our day? A failing public education system, I think, is the civil rights issue of our day," he said, borrowing a phrase the mayor has used to describe his competing fight to raise taxes on the rich to fund universal pre-K.
"What charter schools say is, 'Maybe we should try something new. Maybe a little creativity, maybe a little innovation,'" Mr. Cuomo continued.
Mr. Cuomo, who has found himself at odds with City Hall's tax hike plan, went on to directly connect charters to Mr. de Blasio's pre-K agenda, which is facing an uphill battle. Mr. de Blasio needs Albany's approval in order to raise the income tax in the five boroughs.
"I do not have a concern that the charter school movement is a threat to the normal public schools. Charter schools are public schools, right? I do not consider charter schools a threat; I actually think charter schools can be an enhancement. We talk a lot about pre-K–and again I understand the politics of pre-K–I think charter schools actually are more relevant to a seminal discussion on education," the governor said.
As far as Mr. de Blasio's comments today that he would accept Mr. Cuomo's offer of state pre-K funding instead of his tax as long as the amount is "verifiable," Mr. Cuomo said he didn't understand the premise.

"There's nothing 'verifiable,'" he insisted. "If we passed a tax this year for the city of New York, which is what the mayor asked for, we could undo it next year. There's nothing that says if you pass a tax, you can't undo the tax. We've passed a millionaires' surcharge. It was supposed to go out of existence, we extended them."
"We're going to have a statewide pre-K program funded by the state," Mr. Cuomo added, not sounding especially inclined to accept a compromise. "That's what we said we're going to do and that's what we're going to do."