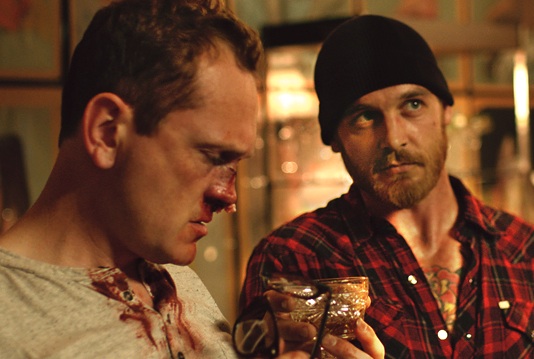 Horror flick fans who revel in New Age stomach churners are praising director E. L. Katz for breaking the rules. Prime example: a thing called Cheap Thrills, already a hot topic at various film festivals and now arriving in New York in time to lower the standards of nausea and disgust to new levels not experienced since The Human Centipede and Cannibal Holocaust, both still banned in many countries and not even available on Netflix. Cheap Thrills is slashed from the same bloody fabric, which tells you how messed up it is. This is not a movie for everybody, but that assessment is not exactly intended as a thumbs down. Alarming thrills are guaranteed.
---

Cheap Thrills ★★ (2/4 stars)

Written by: David Chirchirillo and Trent Haaga Directed by: E.L. Katz Starring: Pat Healy, Ethan Embry and Sara Paxton Running time: 88 min.

---
Desperate to make $4,500 for expenses to support his family after losing his job and facing eviction, Craig (Pat Healy), a failed Hollywood writer who has been laboring as a garage mechanic to make ends meet, stops off in a bar on his way home to drown his frustration and anxiety. Depressed and despondent, he runs into Vince (Ethan Embry), a friend from his young skateboarding days who works as a shady debt collector for a loan shark. 
Before Vince can propose ways to make extra money illegally, the guys catch the eye of obnoxious Colin (David Koechner) and his voluptuous wife, Violet (Sara Paxton), a rich couple celebrating Violet's birthday by slumming on tequila shots. Before he can get away, Craig finds himself caught up in the night-crawling escapades of the man recklessly unloading his bankroll and the sexy blond birthday slut who gets her kicks spending it by making bets on cheap thrills: silly stuff for starters, like $200 for anyone who touches a stripper's butt first or $500 if you sock the bouncer.
Craig goes along, reluctant at first but goaded to glory by his buddy Vince, until he wakes up at 2 a.m. with a face like raw hamburger, broken glasses and a plan to rob the couple's safe. But it's the foxy couple in a party mood who turn the tables on the two would-be felons, turning what started out as cheap thrills into a reality game show. As the stakes get higher, the games get nastier, from competing to see who makes the best vodka martini to defecating on the next door neighbor's living room floor to having sex with Violet while her husband pleasures himself across the room. Craig gets the $4,500 he needs for rent money, but why stop there? 
By the time the decadent hosts ante up $25,000 for the price of a severed pinky finger, the competition between Craig and Vince knows no boundaries. The intensity in the depraved screenplay, by Trent Haaga and David Chirchirillo, grows to such insanity that when they dive in to eat the neighbor's boiled poodle for $50,000, I could no longer watch the festivities. Believe it or not, there's more. I don't want to give too much away, but suffice it to say you will not believe the final $250,000 jackpot.
The theme of this indictment of a desperate society in economic peril is that, in order to survive, money can reduce a civilized man to the status of an animal. Under the guidance of director Katz, this egregious premise is served with monstrous devotion and acted out with conviction by a good cast from various TV series. Ms. Paxton is mostly wasted as eye candy, but Mr. Healy makes desperation so real he elicits empathy even when his needs grow deadly. Mr. Embry, who usually plays handsome preppies, is a convincing tough guy who has traveled the wrong side of the block several times over. But it is former Saturday Night Live comic Mr. Koechner as the malevolent, twisted "host" of the midnight madness who drives the narrative and makes your hair stand on end.