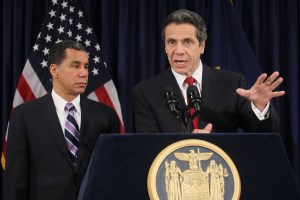 Former Gov. David Paterson has an unusual take on the recent power plays between his successor and the new mayor.
In an interview on Geraldo Rivera's 77 WABC Radio show this morning, Mr. Paterson argued that Gov. Andrew Cuomo was actually doing Mayor Bill de Blasio a favor when he offered to pay for universal pre-K using state money instead of endorsing Mr. de Blasio's plan to raise taxes–and accused Mr. de Blasio of being "intellectually dishonest" in arguing a new tax was necessary to fund the programs.
"Well actually, I think that Gov. Cuomo was trying to help the mayor. [Mr. de Blasio] said he wanted universal pre-K, and if you remember in the governor's State of the State address, he said, 'OK, we'll put it in the budget.' And then he [Mr. de Blasio] comes back and says, 'We need to tax anyway, because we need a continuous funding stream.' And that's just intellectual dishonestly," Mr. Paterson argued.
"Because every budget is a new funding stream. The government shuts down every year unless you reopen it. So in other words, whichever system you use, it's only as good as the next legislature and the next governor," he added. "Look, if Mayor de Blasio wants to tax the wealthy for another subject, in addition to universal pre-K, then he can say it. You may not agree with it, but to say that what the governor offered in this budget needed any further assistance is just wrong."
Mr. de Blasio and Mr. Cuomo have been locked in a battle over how best to fund the programs, with a tax increasingly unlikely as the state budget's April 1 deadline nears. Mr. de Blasio and his allies have been subtly shifting their rhetoric in recent days, trying to frame the expansion of pre-K itself as a victory, and downplaying the need for a tax, which they had previously argued was the only way to ensure a consistent and reliable funding stream
Mr. Paterson also heaped praise on Mr. Cuomo. "He's known for bare-knuckled and sharp elbows," Mr. Paterson acknowledged, arguing there are a number of other things he doesn't think Mr. Cuomo has been "given any credit for"–including keeping a low national profile.
"Everyone keeps saying he's running for president. He's not traveling around the country like these other governors are. He's been working strictly on New York City and has never said anything about any higher office," said Mr. Paterson.
He further commended his successor for "putting himself right in the midst" of the fight over charter schools–which Mr. Paterson said he eventually came around to supporting–praising Mr. Cuomo for suggesting that the state would step in to fund three Success Academy charter schools the mayor has tried to halt.
"My suggestion would be that the mayor sit down with all the parties and see if something that can be worked out," he said. "Absent that, which I think is the more likely condition, then I think the pressure's going to be on the state–on the State Senate and the State Assembly and the governor–to come in and try to help New York City's children."
Update (1:46 p.m.): Mr. de Blasio responded to Mr. Paterson's remarks by insisting there was "very clear precedent" for new mayors asking Albany to allow them to raise taxes to fund their own initiatives.
"There's a clear precedent for the City of New York declaring that it has a particular need, getting approval from Albany to raise revenue from our own people. I believe that made sense all along. I still believe it's the single most sustainable revenue source," said the mayor.
However, he added, "I understand the dynamics in Albany. And we've said repeatedly: we get the resources we need in a reliable fashion, we can move forward with full day pre-K for every child in this city and after-school for every middle school student. That's what we're preparing to do right now."