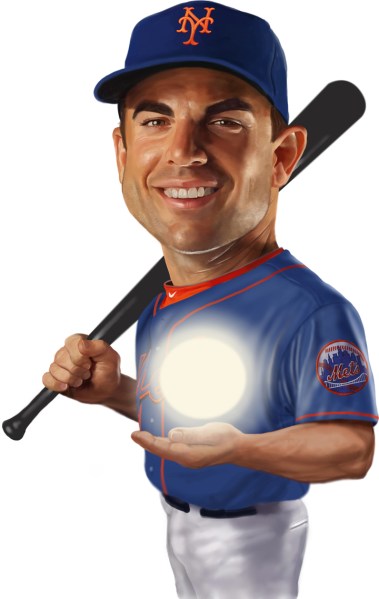 The Mets' spring-training clubhouse opens straight into the home dugout at Tradition Field, in Port St. Lucie, Fla. From there, it's only a few steps up to the playing turf, where the team is taking fielding practice, a little before 10 a.m. on a Monday in early March, less than three weeks until Opening Day.
All eyes are on David Wright, the team captain, as he circles under a high pop, fighting the sun that cuts over the stands along the opposite baseline. Wright totters backward, shielding his eyes. He loops forward, then left, staggers to his right, before frantically backtracking at the last moment to snare the ball over his head. From every corner of the diamond, Wright's teammates narrate his adventure with cries of "Whoa! Whoa!" relishing the chance to razz their squeaky-clean leader.
Despite arriving in Florida four weeks earlier than most players, Wright is still knocking off wintertime cobwebs. The day before, he played in only his second spring-training game of the year and has yet to record a hit.
But stats are beside the point. The idea is to keep the franchise player healthy, not to wear him out in meaningless spring competition, which is what happened last year, when Wright hurt his intercostal muscle during the World Baseball Classic. (He also suffered a hamstring strain mid-season.) This year, Wright and the Mets are doing all they can to ensure he stays on the field for 162 games, which is why, despite the heckling, no one at Tradition Field wants to see Wright fail—except maybe Ty Wigginton.
Indeed, if anyone ought to hate David Wright, the Golden Boy of Queens, that man is Wigginton, who came up through the Mets organization and was the last person not named David to hold the team's full-time third-base job. Like Wally Pipp, Lou Gehrig's predecessor, Wigginton was forced out, traded at the deadline in '04. And yet Wigginton, who has spent the last decade pinballing around the league, does not hate David Wright, because no one hates David Wright.
Today, Wigginton is in town with his latest team, the Miami Marlins, and when Wright sees his former teammate watching him from the sidelines, he unleashes one of his trademark high-wattage smiles and begins jogging toward him. Wigginton grins and greets the seven-time All-Star with a big bro-hug and a perfect nickname.
"Sunshine!" he cries.
***
After taking batting practice—Wright is working on keeping his swing simple, according to hitting coach Dave Hudgens, by not holding his back elbow too high or over-rotating his upper body—Wright retreats to the locker room with about two hours till game time. Inside, players lounge on folding chairs, munching pregame grub and eyeballing the mounted flat-screens, while others wander restlessly, checking out the bulletin board by the entrance to the equipment room, where the lineup is posted alongside a flyer for bible study. ("Please see Daniel Murphy if you plan to attend.")
A kind of controlled chaos exists inside a major-league clubhouse, especially at this point in spring training, before the first round of cuts. One can almost get lost amid the loitering beat reporters, aimless as the athletes. But when Wright moves through the locker room, everyone knows exactly where he is.
Around noon, the third baseman is goofing around by his locker, laughing with injured ace Matt Harvey and first basemen Josh Satin and Ike Davis, like the cool kid at a lunchroom table. Jay Horwitz, the team's head of P.R., comes over with a message for Wright, and the guys start messing with him, pretending they can't hear. "What?" they shriek in unison. "What? What?!"
"You gotta have thick skin when you walk in that clubhouse," says Dave Racaniello, the Mets' longtime bullpen catcher, who served as best man at Wright's December wedding. "Rac" is the only current Met who has been in the team's uniform longer than Wright and is lovingly referred to by some guys, like closer Bobby Parnell, as "a glorified fan."
Wright is not above some good-natured jeering, but neither is he afraid to employ a gentler touch. Indeed, as a leader, he couldn't be less intimidating. Wright smiles easily, has a decidedly high-pitched cackle and walks almost on the balls of his feet, like he's tipping slightly forward or getting on his tippy-toes to reach a high shelf. What's more, Wright takes pains to embrace those new to the club. Earlier that day, for instance, I watched as he sat down at a card table across from top pitching prospect Noah Syndergaard, who had been reading quietly by himself.
With Syndergaard, Wright adopted a casual, chummy posture, before leaning forward, gesticulating with both hands, as he talked the young hurler through the previous day's game, which was against division rival Atlanta. "[Zack] Wheeler was throwing yesterday," Syndergaard would explain to me, "and we're comparable pitchers, so we were just talking about how he attacked hitters, picking up on certain things that might make it a little easier during the season to get an out."
It is a mensch move to engage the young-uns, to help ease their transition. But Wright is not just doing it to be a good person—although he is doing it for that reason too. (Almost every Met has a story of how Wright has gone out of his way for them, like when he offered a just-called-up Satin a ride from Citi Field in late 2011, when he overheard he would be taking the train.) He is also doing it because he wants to win, because he's sick of losing—the Mets' five consecutive sub-.500 seasons are tied for most in the majors—and he knows he can't do it alone.
The fact is, heading into the second year of an eight-year, $138 million contract—a deal that all but ensures he will never play a professional baseball game in another team's uniform—Wright is counting on Syndergaard to be able to get that out when he joins the big-league club. He is counting on Wheeler too and eventually on Harvey, who had Tommy John surgery last October. He is counting on all these young guys—and others, like newcomers Curtis Granderson and Bartolo Colon—to not just improve his beloved ball club but to prove he didn't make a mistake by aligning his fortunes with those of the New York Mets.
***
In 2006, when he was just 23, Wright got his first—and thus far only—taste of play-off baseball, as the Mets finished with the best record in the majors and soon found themselves one game from the World Series. Wright remembers jogging out to third base for Game 7 of the NLCS at Shea Stadium, the team's former home.
"You look up, and the place is literally shaking. The upper deck is like swaying side to side," he explains, when we find a quiet table inside the clubhouse equipment room, his hamstrings wrapped in ice and Ace bandages, after playing four innings against the Marlins. (He walked and lined out in two plate appearances.) "It was nuts," he adds. "It's addicting."
Although the Mets lost that game and that series—which many fans still contend they ought to have won—the future looked bright for the Amazins. Along with shortstop Jose Reyes, Wright was only scraping the surface of his vast potential. Even Yankees fans felt their team's claim on the city's collective conscious starting to fade. Wright had just signed his first big-time deal, for six years and $55 million, and suddenly he was earning a slew of media attention, including a place in GQ's Men of the Year issue and a long feature in New York magazine.
The city was ready to crown its new king—until it all fell apart.
The following season, the Mets suffered a historic collapse as they relinquished a seven-game lead with 17 to play, missing the play-offs. The next year, they missed the play-offs again, after holding another multigame lead in mid-September. In 2009, the team's first at Citi Field, they never had a chance to collapse, going 70-92 and finishing fourth in their division. The year was also bad individually for Wright, whose home run and RBI totals plummeted in the spacious new ballpark. And just when things couldn't get worse, Wright took a 94 mph fastball off the earhole of his helmet in a mid-August game, suffering a concussion and never returning to form that season.
When I ask about his relationship with Fred Wilpon, the team's owner, who openly ripped Wright—"A really good kid. A very good player. Not a superstar."—in a 2011 New Yorker article that focused on the team's financial dealings with Bernie Madoff, Wright sighs and says the whole thing was blown out of proportion. "Did it sting a little bit? Of course," he says, "because you're talking about your owner saying these things. But our relationship is strong enough that he can say that and it's not going to break the loyalty that either one of us have for one another."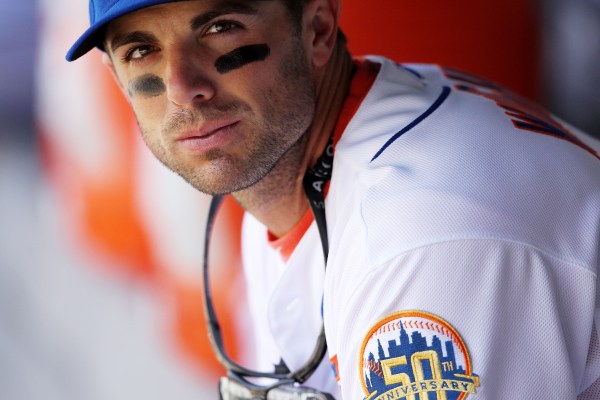 It's hard not to cringe when the concept of "loyalty" is invoked in the context of professional sports, but one gets the sense Wright is not just paying lip service to the term. Five years after moving to Citi Field, the Mets have yet to field a winning team. Even so, Wright insists his decision to stay in New York was easy, which proves he's either a robot or a saint.
"I would have had to be traded," Wright says, distinguishing his temperament from that of a "mercenary," a player who, in his words, would chase every last dollar. (He doesn't cite anyone by name, but it's hard not to think of Robinson Cano, who last December rebuffed the Yankees and signed with Seattle for $240 million.)
Money isn't the only reason to change uniforms, though. What about enlisting with an organization in a better position to compete for a title, to chase the dragon of play-off addiction?
Wright pauses, but his answer remains the same. "To me, it's almost like cheating," he says. "It defeats the whole purpose of the challenge. Is it fun to win? Yeah, it's fun to win. But that's not what it's about. It's about the challenge, the process of getting there."
***
It would be a mistake to conflate Wright's professed loyalty with a lack of intensity. More than anything, the dude really does want to win.
"I once beat him in a free-throw contest at Dave & Busters," Racaniello would tell me, when we meet in the stands behind the home dugout, so he wouldn't get ragged on for talking to a reporter. "That's pretty much all I have."
---

THE DEVIL YOU DON'T KNOW...

The Mets clean-cut third baseman isn't all pep talks and sunshine. Just ask Paul Taglieri, the team's director of Florida operations. He and Wright have been friends since 2003, when the franchise player was a lowly minor leaguer and Taglieri was G.M. of the Mets' Single-A affiliate. These days, "Tags" is the target of a yearly springtime prank, which may or may not be masterminded by Wright. "He wouldn't say it's him, but I know it's him," says Taglieri, who found his car tires spread across Tradition Field last spring and his vehicle up on cinderblocks in the parking lot. "He goes, 'We're gonna get that guy, Tags. We're gonna find out who did this to you.'" That was almost as bad as the previous year, when Taglieri's car was stuffed with Styrofoam peanuts. ("Six months later, there were still peanuts popping up!") What's in store this year? Taglieri doesn't want to know. "I'm starting to get a complex," he says, laughing. "I told him the other night, 'You'll be sorry when you come visit me and I'm just twitching.'"

---
Like Charlie Sheen, winning has always been everything to Wright, who grew up in Chesapeake, Va., the oldest of four boys. To this day, the Mets captain carries himself with a friendly, big brother kind of confidence, in stark contrast to the team's recent legacy of hard-luck losing. "He seems to be very successful at whatever he does," says Racaniello. "And to the people close to him, he'll let you know once in a while."
As Wright would admit to me, his obsession with winning most definitely formed early on: "You've got to beat your little brothers at everything," he says. "Once you start letting them win, you start losing your edge."
Any outsize ego that might have resulted from Wright's preternatural abilities was checked by a family unit that seems straight from central casting of a 1950s sitcom. Discipline, courtesy and respect were drilled into all four Wright boys by police officer dad Rhon and mom Elisa, who worked in the school system. The punishment for bad grades was the same as for neglecting to clean your room: grounding.
When Wright was first called up to the big leagues, in 2004, he was "a wide-eyed, bright-smiled kid," in the words of John Franco, the Mets' previous team captain and all-time saves leader. To help adjust, he attached himself to Joe McEwing, a veteran utility player who now coaches third base for the Chicago White Sox.
"David and I just clicked," McEwing recalls, detailing how he would invite the rookie over for dinner, where they would talk deeply "about the game and about life off the field." Meanwhile, at the stadium, McEwing showed Wright the ins and outs of being a major leaguer. "Just the little things," he says, "like what time you get to the ballpark, your dress attire on the road, tipping clubhouse guys, your routine as far as your groundballs, your cage time. It didn't take much. It was really like a big brother, little brother-type situation."
The following spring, Wright would weep when his buddy was cut from the team. But through it all, he stayed close to home, calling his parents to repent for on-field outbursts, writing Mother's Day cards in his spare time and spending off-seasons back in Virginia. In the clubhouse, his drink of choice was milk. Off the field, he created the David Wright Foundation (whose marquee annual event, held in partnership with the Mets Foundation, benefits a children's hospital in Norfolk). And he never, ever lost at ping-pong.
"If you meet his parents, you see where he gets his values from," says Racaniello, who has not yet given up the ghost of finding new ways to best Wright.
At the beginning of this year's spring training, for instance, Racaniello went in for an EKG as part of his annual physical, and the nurse marveled at his low heart rate: 44. Dutifully, Racaniello sought out Wright to report his score. When Wright returned from his physical the next morning, Racaniello was waiting.
"Well?"
But before Wright could respond, Racaniello already knew the answer.
"He's got that smirk on his face when he tells me," Rac says, shaking his head. "He was a 42."
***
Before he signed his current contract with the Mets, before years or dollar figures were ever discussed, Wright sat down with Mets General Manager Sandy Alderson and went through the team's farm system, player by player.
"I obviously bought in. I still buy in," says Wright, who has defended the team's relatively meager payroll—down more than $50 million from 2011—and supported his G.M.'s claim that this year's club can nonetheless win 90 games (a figure two scouts I spoke with deemed optimistic at best and possibly delusional.)
"Mets fans and Mets players—you kind of relish that," says Wright, citing the 1969 Miracle Mets, the "Ya Gotta Believe" crew of 1973 and the more recent World Series team from 2000. "I hate to use the term underdog, because you should never consider yourself an underdog, but it's almost like, when no one gives the team a chance, we kind of play our best."
For Alderson's part, he says he never tried to "sell" Wright on anything; he just laid out his vision. "One of the reasons many Mets fans have faith in what we're doing is because David does," the G.M. tells me, explaining the team must be "value shoppers" and rely on the farm system. (Payroll could rise along with attendance, he adds.) "I think his confidence in what we're trying to do has had implications far beyond just his willingness to sign a contract."
All of which underscores the importance of the Mets not crapping the bed in 2014, thereby betraying their star player's trust. ("We're not going to be able to attain any of these goals if we don't start going in the right direction," says Wright.) While the Yankees are winding down an era, with victory-lap seasons for Mariano Rivera and now Derek Jeter, baseball experts like Buster Olney and Jim Bowden agree the Mets are built for "the long haul." But Wright, who at 31 is entering the backside of his prime, need only look across town to see that the game eventually passes by even the best players. For him, the clock is most definitely ticking.
"It's very strange to hear that Derek Jeter is not going to be there past this year," says Wright. "It does kind of wake you up. You really can't play this game forever."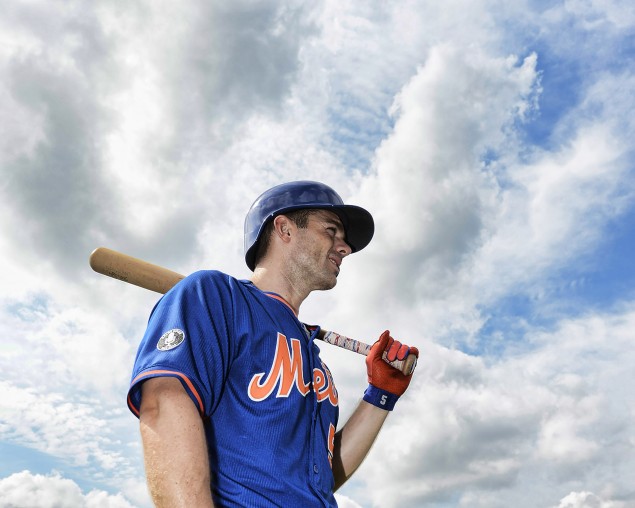 ***
Depending on his production levels over the next handful of seasons, Wright could wind up in discussions of all-time great third basemen with names like Brett and Boggs. A .301 career hitter, he stands only 30 home runs behind Darryl Strawberry for most as a Met, and he already holds the franchise records for runs, hits, total bases, doubles, RBIs and walks.
Not that Wright ever considers his legacy. "This game is too humbling," he says. "If you start riding that emotional roller coaster, it mentally drains you. Hopefully, one day I can pat myself on the back a little bit, but that day isn't anywhere, anytime soon."
It's an answer right out of the athlete handbook, which is no surprise: This is a man who always stays on script. The only difference is, for him, the script actually feels genuine. With Wright, there's never any snark or cynicism. You'll never find him wearing skinny jeans or an ironic tee, which raises the question: What kind of New Yorker is this guy anyway?
But maybe that's the point. Maybe that's why he's stuck with the Mets, a club whose little-brother status, even in its own city, transcends everything down to the team's store of batting-practice baseballs. (At one point during warm-ups, a ball ricocheted off the pitching L-screen toward me on the sidelines; before throwing it back, I noticed the insignia stamped between the laces: "Yankee Stadium Inaugural Season 2009.")
Wright, who admits he's "envious" of the Yankees titles, says he wants to "go all-in" for the Mets. "I want, at the end of my career, for these fans that have supported me, I want to give them something to be proud of," he says, sounding very much like the good son, the loyal son, the son who would be savior.
As we're winding down in the equipment room, Wright stands up and pulls down his mesh shorts, in order to readjust the Ace bandages around his legs. I congratulate him on becoming the "Face of MLB," a gimmicky social media contest put on by the league during spring training.
"Thanks," he laughs.
I ask if he has heard about the controversy surrounding the contest, in which he bested Eric Sogard, a light-hitting infielder on the Oakland Athletics, in the final round. No, he says, interest piqued. What controversy?
I explain how Internet conspiracy theorists have pointed to a suspiciously large number of votes coming in from South Korea in the contest's final hours, which pushed him over the top. I suggest MLB Commissioner Bud Selig had been routing his laptop across the globe.
"I did not know that," says Wright. "If that's the case, then I'd like to thank the South Koreans as well."
"Oh," I say. "I thought you were going to offer Sogard half a share."
"No, no, no," he smiles. "I'm the winner."