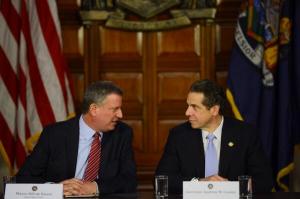 Mayor Bill de Blasio and Gov. Andrew Cuomo met behind closed doors today for about an hour in Albany, but appeared no closer to a resolution on their heated dispute over how to fund an expansion of pre-K.
Speaking to reporters in the capital, Mr. de Blasio repeatedly described the conversation as "productive" but said his plan to up taxes on the city's wealthiest residents remains the "only reliable plan on the table." Mr. Cuomo insists he can fund pre-K across the state with existing funds.
"I don't want to get into the details of the private conversation I had with the governor," he said, noting the pair had covered a range of topics, including homelessness, HIV and AIDS services, Sandy recovery and hospitals–"and of course we talked about pre-K and after-school."
"I would characterize it as a very productive meeting–obviously a long meeting. A productive meeting," he said.
Mr. de Blasio has until April 1 to convince lawmakers to include his tax in their budget, and it appears increasingly unlikely that Republicans and Mr. Cuomo will budge in an election year, putting the mayor's signature campaign promise at risk.
But Mr. de Blasio downplayed tensions between the pair, and that the dispute wouldn't comprise their relationship–or Mr. de Blasio's endorsement of Mr. Cuomo's re-election campaign. "Of course I'm going to support his re-election. Again, this is a friend who I've known for almost 20 years," he said. "Of course I'm supporting on his re-election."
"Even when we have some differences—and we do have some differences in terms of the best way to get pre-K and after-school done, we're still able to have very productive conversations. This was definitely a very productive meeting," repeated Mr. de Blasio. "We are not discussing if there's going to be a major effort to create UPK and after-school in New York City. We're talking about how's best to get it done. And even though we have some differences on that, we are still working constantly to figure out the best way to get things done for the future."
But reporters continued to press Mr. de Blasio, with one asking bluntly whether his plan was "dead."
"Again, I believe that the tax is the fair way to get this done. There's a lot of support up here. You saw the letter from a number of assembly members calling for the tax plan. Speaker Silver's been very positive about this tax plan, Jeff Klein's been very positive. We have the Democratic Senate conference … There's a lot of support up here because the tax plan is the most reliable way to get this done over the next five years," he responded.
Mr. de Blasio also met with state lawmakers, including three Senate leaders–Dean Skelos, Jeff Klein and Andrea Stewart-Cousins–and Assembly Speaker Sheldon Silver.
Mr. Cuomo's office did not immediately respond to a request for comment.