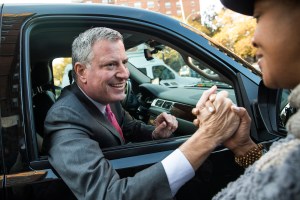 Mayor Bill de Blasio finally got some good news in the form of a story about unclaimed cash.
The Daily News reported today that the mayor is owed money held by the state comptroller's office from the health insurance company Group Health Inc. as well as AT&T Mobile.
The listing does not specify how much he's owed–but that didn't seem to temper the mayor's response when asked about the money a press conference this afternoon
"Yes, I'm excited about that story!" he exclaimed. "The best news story I've seen in a long time."
"You know I will," he said when asked if he'd keep the cash.
According to the Daily News, AT&T lists the mayor's address as a private mailbox at a UPS Store three blocks from his Park Slope home–which the mayor explained was set up by his wife, so that they could receive packages when no one was home.
"The mailbox is something that Chirlane set up a long time ago because a lot of times when she was working or otherwise away from the house, we couldn't get deliveries 'cause no one was home," he said.
The money owed to the mayor part of more than $12 billion in unclaimed funds held by the comptroller and includes everything from uncashed paychecks to unclaimed trust funds.
New Yorkers can check to see whether they're owed money here.