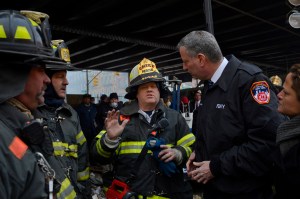 Mayor Bill de Blasio returned to the site of the fatal East Harlem building explosion and collapse this morning, where he was briefed on the ongoing  recovery efforts by first responders.
Yesterday morning's explosion–apparently caused by a gas leak–leveled two buildings near the corner of East 116th Street and Park Avenue, spewing debris into the street and leaving at least seven dead and 37 injured as of last night, with others still missing, a fire department spokesman said.
Mr. de Blasio began his tour at City Council Speaker Melissa Mark-Viverito's district office, about a half block away, and then joined emergency responders steps from the collapse site, where a pile of debris remains smoldering more than 24 hours after the collapse, according to pool reports.
"We have probably about two and a half floors of debris, so we have it now down to about one, one and a half floors," FDNY Chief of Department Edward Kilduff reportedly told the mayor, as heavy duty machines worked to remove and sift through debris and firefighters continue to douse the pile with water.
"We have teams that are searching both sides. They follow what the grappler is doing. Then when the grappler brings the materials out, we have teams over here that continue to search," Mr. Kilduff continued, according to the report.
The rescue operations were hampered last night by the appearance of a sinkhole–apparently caused by a water main break that had to be filled with two truckloads of gravel so that crews continue to access the site, he said. There are also new dangers.
"Our biggest concern now is the free-standing wall in the back. That was a little more solid last night, but it burned," he told Mr. de Blasio.
"You have to protect your guys," concurred the mayor.
The mayor then reportedly spoke to about a dozen firefighters who have been sifting through the rubble, and thanked them repeatedly for their service.
"I can only imagine knowing that at any moment you might find a body, how difficult that is," he reportedly told them. "I admire the work you guys do. I really do. It's not easy. Thank God you do. Thank God you do it."
He and Ms. Mark-Viverito then traveled between the tents that have been set up near the site–described by one official as "a little village"–reviewing a several-page response plan packet and thanking first responders.
As he walked back to his SUV, the mayor was overheard by the pool reporter telling Ms. Mark-Viverito, "It is remarkable what they do."