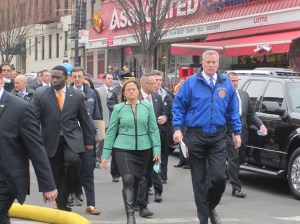 Mayor Bill de Blasio today said he had no regrets about agency staffing following this morning's massive East Harlem explosion, which collapsed two buildings, killing at least two and leaving more than a dozen injured. The explosion appears to have been caused by gas.
Speaking at a briefing a block from the site–which remained smoldering, with more than 250 firefighters on scene more than three hours after the blast–Mr. de Blasio heaped praise on emergency workers and first responders, including the Department of Building's Acting Commissioner Thomas Fariello.
"I think the bottom line is we have very professional, experienced people at each agency," he said, when asked whether he regretted having failed to appoint a permanent replacement for Robert LiMandri, the former DOB commissioner.
The Observer reported in January that the new mayor's incoming team failed to reach out to Mr. LiMandri to inquire about whether he'd be willing to stay in an interim basis like the fire and Office of Emergency Management commissioners until a week before his scheduled departure. A source said Mr. LiMandri declined, forcing Mr. Fariello to step in.
But Mr. de Blasio said he had full confidence in the acting commissioner.
"I dare say Commissioner Fariello's been there a while and knows his work. So we know that everyone is doing everything they can to respond to this situation," he said.
The explosions, which rocked the corner of East 116th Street and Park Avenue, left at least two dead and 22 injured, with others still missing, said the mayor, who described it as "a tragedy of the worst kind" because of how little notice the 15 families living in the two affected buildings had. The buildings also reportedly contained a church and a piano store.
Officials said that ConEd received a call reporting a gas leak from an adjacent building at 9:13 a.m. The buildings exploded roughly 15 minutes later, as ConEd crews were on their way.
"If we were here five minutes earlier, we might have had some fatalities amongst our firefighters as well. So not being here at that time maybe saved some of our lives," Fire Commissioner Sal Cassano said.
The impacted buildings have a long list of HPD violations, but Mr. Fariello said there were no active work permits or serious open DOB violations at either one.