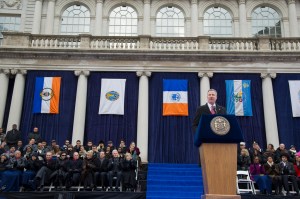 Mayor Bill de Blasio has spent nearly $2 million on his inauguration and transition efforts so far, according to new numbers released today by the city's campaign finance board.
The new numbers show that, between January 1 and February 28, the campaign spent more than $980,00 on the efforts, including more than $240,600 on the new mayor's Inauguration Day festivities. That's in addition to the more than $1 million spent between early November and December 31, 2013 and reported by the board earlier this year.
In all, the administration spent $825,000 on Inauguration Day activities, according to a City Hall spokesman. He noted the total of just under $2 million so far is less than the $2.5 million spent by Mr. de Blasio's predecessor, Michael Bloomberg, after his election in 2001.
The new inauguration costs include nearly $12,000 for invitations, nearly $7,000 for programs and thousands more for photographs. Mr. de Blasio also spent about $3,000 on the public open house event he held at Gracie Mansion shortly after taking office.

The team further spent more than $230,000 on "pers-recruit service"–presumably personnel recruiting service–and vetting to fill his new administration, which is still without numerous agency commissioners more than two months after Inauguration Day.
Those employees helped identify and assess candidates, including searching for agency commissioners and sifting through candidates who uploaded their resumes to the administration's online "talent Bank," the spokesman said.
Numerous staffers who worked on the mayor's transition effort in other capacities, such as staffing events, were also on the payroll.
Updated at 12:54 p.m with additional details from the mayor's office.