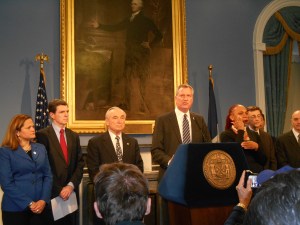 In the wake of yesterday's massive East Harlem explosion, Mayor Bill de Blasio said New Yorkers should call 311 or ConEd immediately if they smell gas. 
The cause of yesterday's explosion, which demolished two buildings and killed at least seven, is believed to be related to a gas leak, though Mr. de Blasio refused to "speculate" about what sparked the blast until a full investigation is complete. Mr. de Blasio nevertheless stressed the importance of reporting leaks.
"We have heard that someone smelled gas but we did not get a complaint to either 311 or Con Ed," Mr. de Blasio told reporters at City Hall. "There should be no hesitation in report[ing]. It is so much better to report the possibility even of a gas leak and let there be a response and let's pray the response shows that there's no problem, then to hesitate."
"If you smell gas, any hour any day, even for five minutes, report it to ConEd or report it to 311," he later stressed.
Numerous residents in the area of the blast have told news outlets that they have often smelled gas nearby. Reports have also indicated that a water main collapsing on a gas line could have been the cause of the explosion. But ConEd, the FDNY and Police Commissioner Bill Bratton insisted there were no records indicating any gas smell complaints before the explosion. 
"We have no records of any calls," Mr. Bratton said. "That's the preliminary review."
FDNY Commissioner Sal Cassano added that the fire department had seen an uptick in gas leak complaints since the explosion, averaging 40 calls in the first 12 days of March and then about 90 yesterday. 
"We expected it and we expect to last a few more days," Mr. Cassano said.