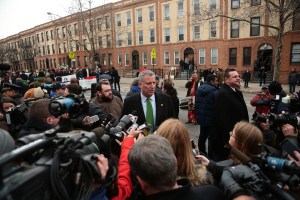 Mayor Bill de Blasio today weighed in on the escalating tensions in the Ukraine, where a standoff with the Russian military has led to a full-blown international crisis.
The new mayor, who seems eager to comment on foreign policy topics, including Israel and sanctions against Iran, sharply criticized Russian President Vladimir Putin for his incursion into the Crimean peninsula.
"It's deeply troubling. And I think the president was right to tell Mr. Putin that this was something that is very troubling in terms of world order and respect for sovereign boundaries," said Mr. de Blasio, when asked about the conflict along the route of the St. Pat's for All parade in Sunnyside Queens.
"I am perplexed as to why any nation would do such a thing as what Russia has done. But I think there's going to be a very strong response around the world condemning that action and calling for them to pull back," he added.
Russian troops have reportedly seized the Crimea Peninsula–a situation that Secretary of State John Kerry on Sunday called an "incredible act of aggression," according to the New York Times.
In a phone call with Mr. Putin Saturday, Mr. Obama "made clear that Russia's continued violation of Ukraine's sovereignty and territorial integrity would negatively impact Russia's standing in the international community," the Daily News reported.
Mr. de Blasio said he believed the president had "said the right thing."