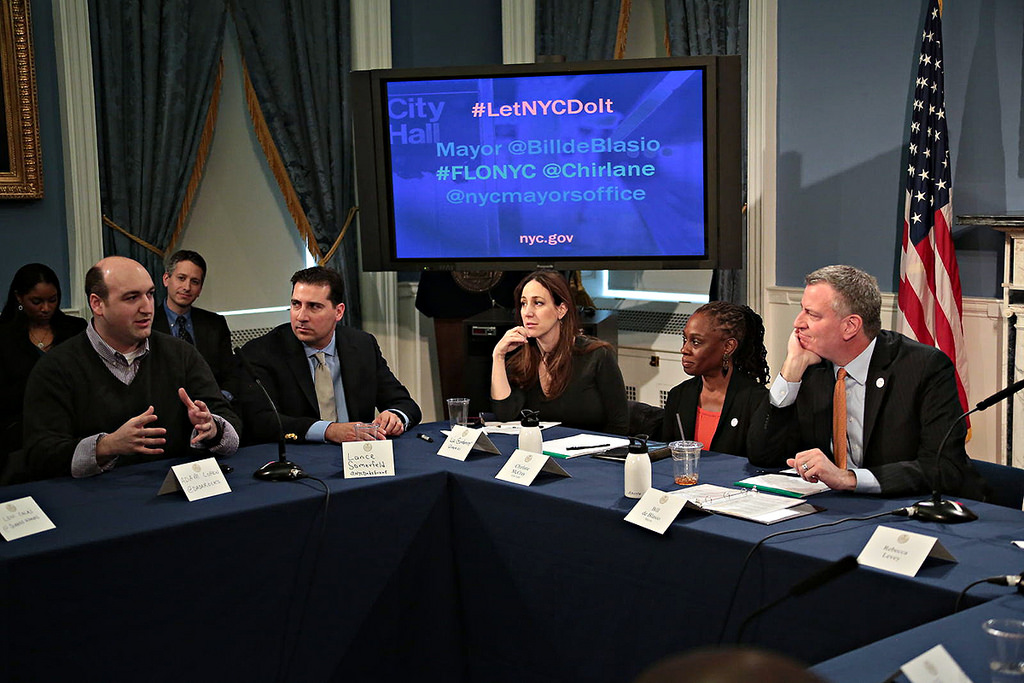 Mayor de Blasio took his pre-K campaign to the blogosphere this afternoon, inviting a group of parent bloggers to City Hall for  a discussion on preschool and after-school programs, which he is fighting to expand.
"We need Albany to hear concerns of parents in our city and provide the resources," said Mr. de Blasio, who has launched a massive push to try to convince lawmakers in Albany to approve a tax on the city's richest residents to fund the programs.
Meeting with the group around a large roundtable in City Hall's Blue Room, where press conferences are usually held, the mayor and his wife, Chirlane McCray, presided over the question-and-answer session with Rebecca Levey, the founder of children's blog "KidVuz."
The parents in attendance were–not surprisingly–highly supportive of Mr. de Blasio's pre-K and after-school plans–but after the meeting, some voiced doubts that Mr. de Blasio's tax-the-rich plan could trump Gov. Andrew Cuomo's more conservative approach. The two are currently locked in battle over how to fund the programs, with Mr. Cuomo insisting he can fund an expansion state-wise using existing funds. Mr. de Blasio insists that only a tax will create the reliable revenue stream he needs.
Ultimately, the parents were most concerned that universal pre-K and after-school programs be expanded–regardless of which politician's plan made it happen.
"I think it's going to be a hybrid between the two," Adam Cohen, the founder of parenting blog DaDa Rocks!, told reporters after exiting the meeting. "There's no winning when you see 60 percent of the wealth of the state come from one city that wants a different plan than the rest of the state."
"Even though we're a large state and New York City plays a huge part in that, I think you're going to have to see that middle ground, especially in this area," he added.
He wasn't the only one. "I'm optimistic that a plan is going to go through," said Matt Schneider, founder of NYC Dads Group. "The philosophy may be different and the plan may be different, but the idea behind those plans is the same in getting universal pre-K and after-school programs."
"Just the fact that you've got a governor and a mayor that are both talking about the same language, they want a universal pre-K for our children, that's what we care about most: that a plan does get in place," Mr. Schneider's co-blogger, Lance Somerfeld, agreed.
Despite Mr. de Blasio's fierce campaign for his plan, which has included multiple press events and a lobbying day in Albany, most insiders believe it has little change of being included in the state's budget, which is due on April 1.