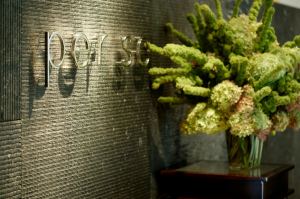 If it is one thing we learned in class, it is that the richest kids don't always get the best grades.
The same, we suppose, can now be said for the New York restaurant scene. The famously swanky Per Se is currently at "grade pending" status after its latest inspection from the New York City Department of Health. The East Coast version of Napa Valley's French Laundry, was slapped with 42 violation points, earning it a "C" rating for that particular inspection. 
Which is surprising, because the restaurant is often lauded as one of the best in the city. Lets take a look at both side of the coin, shall we?
"Wonderful and spacious…this place has very, very high standards," reads one Yelp review. 
"Hand washing facility not provided in or near food preparation area and toilet room," rebuts the inspection report. "Soap and an acceptable hand-drying device not provided."
"This was hands down the best meal I've ever had," states another review. 
"Tobacco use, eating, or drinking from open container in food preparation, food storage or dish-washing area observed," the official report retorts. 
The report lists five more violations, only two of which are not "critical." According to the DOH, any restaurant has two chances to earn an A in an inspection cycle. 
Which means the French eatery should shape up for the second go around, because they sacre-bleu the first one.