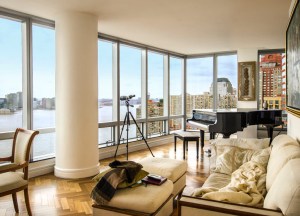 The last time we spoke with the fine folks at Sheldon Good & Company (SGC), the New York-based auctioneer, they were poised to open bidding on a tract of land in North Dakota, which promised to yield cozy housing facilities for migrant frackers. While the owners of that site mull bids, SGC, a sprawling firm with dealings from Jamaica to Wrigleyville, is due early next month to begin taking offers on a property a good deal closer to home—and just a touch fancier, if also more diminutive.
At 28 floors above Manhattan's southern tip, the 1,944 square-foot condo at 10 West Street enjoys views of the Hudson River and the Statue of Liberty, as well as access to the suite of amenities associated with the Ritz-Carlton Battery Park City, of which it is a part. The auction, scheduled for high noon on April 6th, will be the very first in New York for the hotel chain—practically the first luxury residential Manhattan auction of any kind, according to SGC chairman John Cuticelli—and bidding will begin at $2.5 million. (A very similar unit on the 18th floor sold about a year ago for $2.95 million)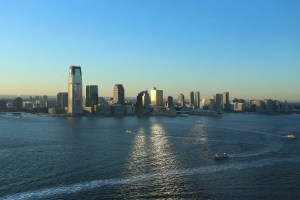 Offering the sort of high-end, non-descript design and finishing you'd expect from a room at the Ritz, the condo features three bedrooms, an in-residence washer/dryer, a marble master bath and floor-to-ceiling windows. (One of said bedrooms is allegedly set up as a library; it is, however, the least bookish-looking library we've ever seen.) By far the unit's most attractive quality is its light-filled interior, which, of course, has much to do with those windows, whose positioning also affords truly beautiful vistas. (See listing photos for starburst sundown complete with iconic, wistful-making silhouettes.)
SGC was engaged to market the condo by a court-appointed receiver in connection with a claims settlement, which required that the owner—who had used the property as a primary residence—sell off assets in a closed time frame to meet legal obligations. Such arrangements, Mr. Cuticelli told the Observer, commonly arise from lawsuits, but differ from bankruptcy proceedings, which generally grant sellers less say in how their holdings are liquidated.
"One of the things an auction will do is create a sense of urgency," Mr. Cuticelli said. "An auction really focuses the market's attention. It's clearly a price-maximization technique." A technique, no less, ideal for sellers without the privilege of—or inclination toward—patience. Many SGC auctions sell off ultra big-ticket items—a Hawaiian island, an estate in Aspen—for perfectly solvent owners who simply wish to free themselves swiftly of property. New York has no shortage of such owners, and Mr. Cuticelli could not quite explain why the city has seen so few high-end real estate auctions. To be sure, he is hoping it changes.
"Changing the behavioral patterns of the consumer," he said, "takes a very very long time."