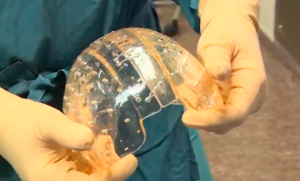 3D-printing can do the most amazing things, you guys — like in the Netherlands, where doctors just successfully implanted a 3D-printed skull into a woman's head.
The patient was a 22-year-old woman whose skull was thicker than normal, NBC News reports. She suffered from severe headaches, vision loss and lack of motor coordination, and doctors predicted she'd begin to lose other important brain functions, too.
The doctors at University Medical Center Utrecht concocted a genius plan: with the help of an Australian medical technology company, they created a 3D-printed implant that would replace the woman's own skull.
[youtube http://www.youtube.com/watch?v=IXcz3OdHSHk&w=560&h=315]
"We used to create an implant by hand in the operating theater using a kind of cement, but those implants did not have a very good fit," head surgeon Dr. Bon Verweij reportedly said in a press release. "Now we can use 3-D printing to ensure that these components are an exact fit. This has major advantages, not only cosmetically but also because patients often have better brain function compared with the old method."
NBC reports that it's been three months since the surgery, and the woman is doing well. Good job, science.