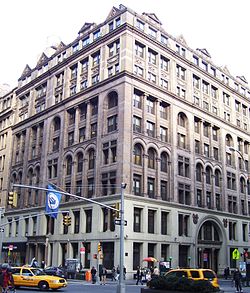 While charity balls and galas, luncheons and dinners remain a key component of Manhattan social life and probably always will—who can resist the allure of living it up to help the downtrodden? So long as it's all for a good cause, right?—the nonprofits who are the beneficiaries of such largesse have become increasingly invisible. Unable to resist the siren call of a seemingly insatiable real estate market, nonprofit after nonprofit has sold off the handsome buildings and townhouses they once called home. Some move into workaday rentals or commercial condos, while others leave Manhattan altogether, following the majority of their clientele to the outer boroughs.
On the face of it, it is an undeniably sensible move: what nonprofit, occupying a prime piece of property worth tens of millions of dollars, would not consider selling? Particularly at a time when fundraising, even in this wealthiest of cities, remains difficult. A sale often means a huge windfall, shoring up wobbly finances for years to come and allowing an organization to focus its attention on the mission that is, after all, its raison d'être.

The Wall Street Journal reports that the owners of the United Charities Building at 105 E. 22nd are planning to sell, hoping to net more than $100 million for their Park Avenue South real estate—a huge boon to the Community Service Society of New York, which owns a 50 percent stake and the Children's Aid and New York Mission societies, which hold 25 percent stakes.
Other charities have also recently abandoned their longtime homes along Park Avenue South, including the United Cerebral Palsy of New York City and the Xavier Society for the Blind, which both plan to move to smaller, leased spaces. Sell-offs are rampant in other desirable neighborhoods, as well. Last year, the Observer reported that the Ackerman Institute was selling its townhouses at 148-151 East 78th, relocating to a non-descript office building at 936 Broadway. In March, New York Foundling listed its building at 27 Christopher Street for $47.5 million, The Wall Street Journal reported. Even non-profits whose missions would seem to make retaining their long-time headquarters essential, like the Center for Fiction, have been unable to resist. (The Center listed its Midtown headquarters for $18 million earlier this year.)
So does it matter that non-profits are leaving the buildings and neighborhoods that they've occupied for decades?
The Children's Aid Society, for one, is familiar with the drawbacks of a big sell-off: in February, the charity listed the building it owns on East 88th Street, the Rhinelander Center, aiming to collect $20 million or more on what would most likely be converted to a single-family townhouse, The New York Times reported. The proceeds of the sale would be directed towards charter school facilities in the Bronx: a move that pleased the charter school, but upset the middle class families who will lose a rare place that offers reasonably-priced pre-school in the increasingly rarefied neighborhood. It is a consequence that the non-profit apparently considered worth the money: a few years before, the Children's Aid Society sold off a building in the Village that housed a beloved pre-school that was converted to luxury condos after the sale.
Like others before and after them, the Society fell back on an irrefutable defense: the social mission comes first. And while there was still, clearly, call for their services in the neighborhoods they left, selling would allow them to focus more resources on areas where there was the greatest need.
And yet, the nonprofits departure from their long-time neighborhoods is, undeniably, one of the many factors that is leading to the hyper-gentrification of so much of New York. Where once there were varied businesses, institutions and apartment buildings serving different social strata, now luxury condos increasingly prevail, paying prices so high that even luxury rentals find it hard to compete.
As Andrew Berman told The Journal when news of the Foundling Society broke: "This is definitely kind of a disconcerting trend. We are seeing all of these old institutions in the neighborhood that served a wide range of people of varying needs, supplying housing for the 1% of the 1%."
What makes financial sense, in other words, does not always make sense for a community or a city. Particularly as the tax revenues that such buildings provide have proven insufficient to preserve the institutions that the city desperately needs. Despite the great gains of the Bloomberg era, the city is no where near being able to save Long Island College Hospital and the New York and Brooklyn public libraries continue to sell off properties to augment insufficient capital budgets.
Indeed, even if non-profits find that they can operate just as well on the ninth floor of an out-of-the-way office tower as in a centrally-located townhouse, there is something worrying about a city where the streets are increasingly dominated by luxury housing. Particularly as more and more civic institutions—schools, libraries, and hospitals—sell off their buildings to the developers of luxury condos, exchanging a prominent street presence for ground and first-floor condos in luxury towers. And what does it say about the future and values of a city where the civic and charitable buildings of the past, along with the bookstores and bars, coffee shops, gas stations and laundromats are disappearing, replaced by buildings that most residents do not even call their full-time homes?